Steak Out: Ultimate Comfort Food in Uber-Cool Setting
16 Mohamed Kamel Morsy St.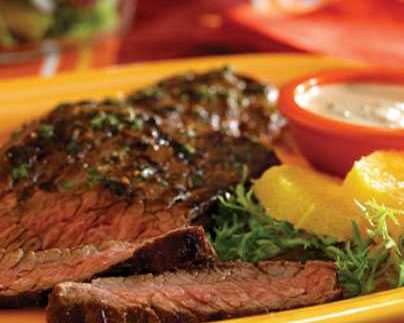 If stuffing your
face with amazing food sounds like a fabulous night out, Steak Out will leave
you grinning from ear to ear. The restaurant
inconspicuously sits in a quiet residential area of Mohandiseen, just waiting
to introduce you to the goodies inside. And what goodies they are!
Hanging mood
lighting, chandeliers, faux brick walls, lamp-lit paintings of stylized French
diners, and red velvet booths make for a visually beautiful dining room,
separated only by windows for smoking and non-smoking sections.
The service is
quick and courteous and the menu is huge and varied. For us it was all about the steak; so we
ordered the grilled steak & shrimp (90LE) and the fillet creamy mushroom
sauce, (53LE) with sides of sautéed vegetables, mashed potatoes and penne
arrabiata, plus a starter of fried shrimp (20LE).
Yummy is the
flimsy description that comes to mind when remembering our piping hot and enormous
main courses that landed on our table. The grilled steak & shrimp was a
fabulously juicy, soft, moist and barbecued 375 graham slab of pink steak
perfection, grilled to a slight crisp with two sauces and deliciously fresh and
slightly garlicky jumbo shrimp on the side. Heaven! Even the roasted vegetables
were deliciously herbed and seasoned, while the mashed potatoes provided a slightly
lumpy and hardly needed carb filler that had an odd hint of cinnamon.
The steak fillet
was likewise well-done, and the arrabiata serving was substantial, though
slightly sour. The fried shrimp were
just as fresh and succulent as the grilled, but with a light crunch.
As there was little
room for dessert, we ordered a mere half-portion of caramel cheesecake that
came in a size that most places would deem as a double portion, all drenched in
decadent caramel sauce. The cheesecake was more cream than cheese with bits of
chewy toffee inside, and could basically kill a horse.
Even drinks are to
die for: the banana jungle fruit cocktail (10LE) is deliciously tropical with
fresh mango, banana, and strawberry juice. The Oreo cookie shake (11LE) was so
thick and chocolaty; it could stand as a dessert on its own.
Steak Out makes
you want to set up a tent in a corner and live there. It feels like an American chain, but a good,
solid chain that you return to again and again. The portions are huge at very reasonable prices, and the food never once
went wrong. On weekends, there's a line
outside the door, and sometimes there are even celebrity sightings. It may not be the most refined venue, but it
is really cool and a lot of fun.