Steaks: Fetar at the Four Seasons Nile Plaza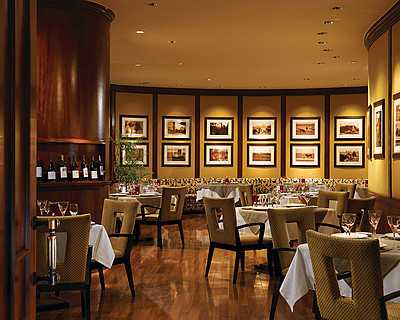 Ramadan is especially taxing for a food
critic at Cairo
360, when you're starving, fasting and a little insane, thus ready to hurt your
waiter with a spoon if your soup doesn't arrive on time. The Ramadan
buffet at the Four
Seasons Nile
Plaza is a truly tasteful
and tasty experience, a refreshing oasis in the desert of poor restaurant
fetars that we've reviewed over the past month.
The Garden City hotel offers the same buffet
meal for all restaurants on the same floor; it doesn't matter whether you book
a table in Aqua or Steaks, you end up with the same buffet artfully displayed
in the corridor. Be sure to book in
advance, though; as the buffet is quite popular.
Tables in Steaks are adorned with quilted
tablecloths in traditional Egyptian print and display several mezzas as well as
a plate of dates to break your fast with. Mezzas include creamy tehina and baba
ghanough, a beetroot purée, and a hummus dip that was so deliciously creamy; we would have been quite happy ending our meal on that high note.
Among the many soft breads displayed, the olive-stuffed pâté stood out. It's
succulent, soft and baked to perfection, while the olive and cheese filling
work beautifully with the tomato soup on offer. Yes, we dip our bread into our
soup. Don't judge us.
A plethora of main course dishes are
offered, including tender beef in mustard sauce, basmati rice, creamy chicken,
steamed and buttered vegetables, grilled potatoes with shredded bacon, and fish
in dill sauce. As a food reviewer, you feel like a failure for saying that
everything was perfect; but having sampled every dish, we can truly go out on a
limb and say that the main dishes were without fault. Steaming hot yet not
overcooked, the meats were juicy, the carbs were well-cooked and the vegetables
still tasted like vegetables; a rare feat for open buffets.
A mixed grill platter in the centre of the
room was surprisingly well grilled without being overcooked, while the pasta
station makes an excellent yet simple cream and cheese sauce.
Equally delicious is the salad corner,
which included smoked salmon with capers, calamari salad, and a shrimp salad
that was too spicy for our liking. However, the beef salad was irresistible and
prompted not one, but two refills.
Following a short rest and some mint
tea, we attacked the dessert table, which included mango konafa, atayef with
cream and berries, and om ali. As tasty as the konafa was, its base was too
dry, which made cutting through the cream-filled centre quite messy. The atayef
were the clear winners: baked- not fried- and stuffed with cream that
contrasted nicely with the sharpness of the berry, they were easy to eat and
easy to keep eating.
Perhaps the only disadvantage to this
dining experience was the price tag, which was staggeringly high compared to
other hotel buffets. Although the buffet is priced at around 290LE per person,
a bottle of water and two mint teas added up to a whopping 800LE for two people. While it was
well worth the high-quality cuisine and attentive waiters, we wish
we had eaten more of the food to really warrant such a high price.