Studio Misr: A Hearty Classic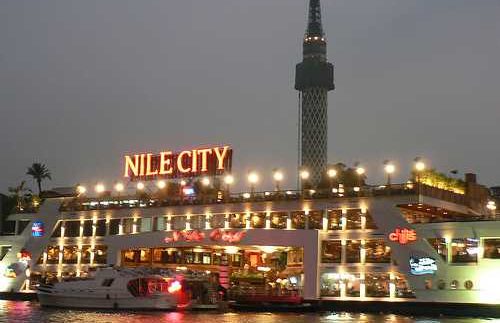 Located on the Nile City boat, Studio Misr offers a twist to
the common traditional oriental cuisine: to walk through the door is to walk
back in cinematic time.
Decorated in the theme of classic Egyptian cinema, the eatery has a rustic vibe
with memorabilia covering the walls and old Egyptian films playing on TV
screens in the background. With both indoor and outdoor dining options,
diners can enjoy a Nile view on the open-air section, which is particularly
remarkable at sunset.
While Studio Misr is best known for its grilled dishes, the mezzas are
spectacular, offering the usual menu of hummus, stuffed vine leaves, pickled
eggplant and cheese sambousak. The restaurant offer freshly baked bread that
comes thick, warm and spongy, to be dipped into the various salads and
mezzas. You can easily make an entire meal out of the mezzas alone.

There are no surprises when it comes to the choices of main dishes: fatta, kabab,
kofta, chicken breast and shish tawouk dominate. The mouth-watering
platters of grilled meat are juicy, tasty and tender. The chicken fatta with
yogurt and pine nuts is exceptional and comes in a healthy portion that is
nearly impossible to finish.
Price-wise, Studio Misr mezzas average around 15LE each while the main dishes
are priced between 50LE to 100LE and the grilled platters start at 80LE. While all these dishes can be found elsewhere in Cairo for much more affordable
prices, it's nice to treat yourself to the relaxed experience of dining on the
Nile.