Sud: Buffet Dining with a Nile View in Zamalek
Sofitel El Gezirah Cairo Hotel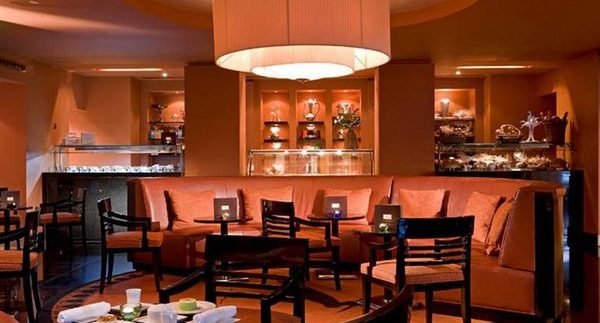 There
are times in life when you simply have to spoil yourself and those around you.
For instance, when it's Christmas and all your relatives on the other side of
the world seemed to have forgotten about you (seriously, you can send gifts
through FedEx) or because you have a best friend who just got dumped by a dumb
boyfriend.

And so it happened that we gathered all our misery and ended up at
the Sofitel Cairo El Gezirah in Zamalek for some good-old comfort food. If
you've been to the Sofitel before, you'd know that it's a little piece of
heaven in Zamalek. Despite the cold December weather, we decided to sit outside
underneath the palm trees by the Nile – and because we wanted to smoke
copious amounts of cigarettes, which is forbidden inside. It was actually
pretty nice outside and had we gone around lunch time, the weather would have
been perfect.
Sud
offers breakfast, lunch and dinner in buffet form. Though we are normally not
very crazy about a buffet, our dining experience at Sud may change our minds. The
obvious plus point of a buffet is of course that you can eat as much as you
want; so we may have helped ourselves to starters two or three times. We couldn't
help it; the starters buffet was delicious. We had some heavenly tehina and
delicious spicy potato soup combined with zesty salmon bites and various cold
cuts. There were at least eight different kinds of bread and lots of dips to
choose from such as hummus, tomeya and tzatziki. We also adored the Waldorf salad
and the tabula.
It's a
good thing we filled up on the delicious starters, because we found our main
courses disappointing in comparison. The
lamb chops were overcooked and were well done instead of medium rare as they were
supposed to be. The beef was also very much on the overdone side. However, the
fish dishes were very good. There were two different versions of sea bass:
grilled sea bass and sea bass with a creamy white sauce. The best part about
the main buffet is the healthy corner with lots of vegetable options and the
delicious grilled sea bass.
The
dessert buffet is as equally terrific as the starters buffet. There are zillions
of chocolate cakes and mousses, various little pies with strawberry,
kiwi and other fruits and delicious crème brûlée. If you are more of the konafa
and basbousa type; then no worries, there is an entire corner of oriental
sweets as well.
Of
course, dining here doesn't come cheap. The buffet costs 195LE a person and a
glass of wine will set you back at least 40LE. However, the food is great –
save for a few exceptions – and you can eat as much and for as long as your
heart desires.

The staff at Sud is very friendly and comes running up with
clean cutlery and plates for you all the time. However, make sure to sit
outside on the terrace; the dining space inside lacks atmosphere.