Swiss Cottage: Authentic Swiss Delicacies in Maadi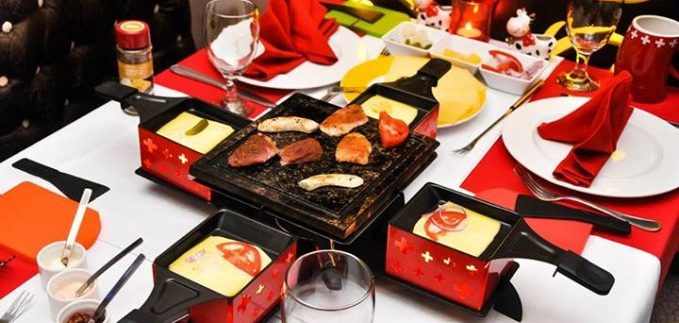 While new restaurants in Cairo are largely gunning for your tastebuds with new cuisines, Swiss food is rarely given the appreciation it deserves. However, Swiss Cottage in Maadi is one eatery that aims to provide it at its best.
Dimly lit and intimate, the restaurant is comfortably sized and the walls are adorned with decorations reminiscent of Switzerland. Taking our seats on padded chairs tucked underneath red clothed wooden tables, we were surprised to see New Year and Christmas decorations still hanging, even though it was the end of January.
In true European fashion, the welcoming staff are well dressed in black uniform; we were hastily brought menus by a bubbly waitress who advised us on its selections. The menu includes a pleasant variety that neither confuses, nor restricts.
As a staple of Swiss Cuisine, cheese fondue is served in four varieties; plain (125LE), tomato (130LE), cottage (140LE) and Swiss mushroom (150LE). There are also salads; green (15LE), Greek (20LE) and cottage potato (20LE).
The restaurant also naturally offers raclette; a native Swiss dish consisting of freshly melted cheese over potatoes accompanied with tomatoes, onions and pickles. Customers have the option of adding a dash of Swiss herbs and the dish comes as full (130LE) and half (70LE) portions.
We opted to share a Swiss cheese and Mushroom Fondue (150LE), before our appetiser of a Cottage Mix (45LE), and our main course of the mix table grill (95LE).
The cottage mix consisted of slices of smoked turkey, air dried beef Grison and salami; all of the quality cold cuts were fresh, flavourful and smoky.
The fondue was served atop a lit flame and we were brought a basket filled with cubes of white bread, made to be smothered in the bubbling mushroom cheese concoction using elongated forks. The Swiss cheese and mushroom combination was delicious; it was pleasingly bitter, but enhanced by the presence of fresh mushroom slices.
For our mixed grill, we were brought our own personal electric grill. After a plate filled with raw cuts of marinated beef, chicken, sausages and organic potatoes was laid in front of us, we clumsily began cooking. Our inexperience was quickly exposed when a piece of chicken went flying across our table – it was left on the heat until it got stuck.
Goofy cooking antics aside, the mixed grill tasted fabulous. The beef, chicken and smoky sausages were fantastic when combined with the selection of house sauces – garlic, curry, thousand islands and salsa. Full control of the cooking meant we could have our meat perfectly cooked to our own preferences; a novelty experience in Cairo.
The Swiss Cottage is an ideal spot for a romantic date or casual – but expensive – dining; it's fun, cosy and the food is delicious.