Capital Business Park, 26th of July Corridor, Giza Governorate

Everyone's favourite Bakery, TBS, is introducing a new concept to their brand, called TBS Kitchen. You're probably wondering what is so different about it? Well, they serve breakfast dishes, sandwiches, burgers, pasta, and so much more than just their delicious baked goodies.
As a venue, the interior is very simple and way brighter than most of T.B.S' branches. Our favourite things about the indoor area were definitely the huge baked goodies display, located right next to the cashier, and the navy-blue ceiling. This latter element added a necessary contrast to the overall greyscale and touches of wood in the interior. There's also an outdoor area, where you can enjoy the beautiful weather before it gets too cold.
We arrived a bit too early to try out their pasta dishes and burgers, since they are only served after 1 pm. Hence, we went with some items that suited a late breakfast/brunch and ordered Potato and Sweet Corn Dip (55 LE), Fried Chicken Breast Salad (115 LE), Seared Steak Panini (110 LE), and Apple Butter and Eggs (75 LE)
Starting with the dip, it had a beautiful chunky consistency to it, and was topped with a lot of cheese. Flavour wise, the cheese was extremely overpowering, to the point that we didn't feel the presence of the potato or the sweet corn at all. It was a good cheese dip, but that's not what we ordered.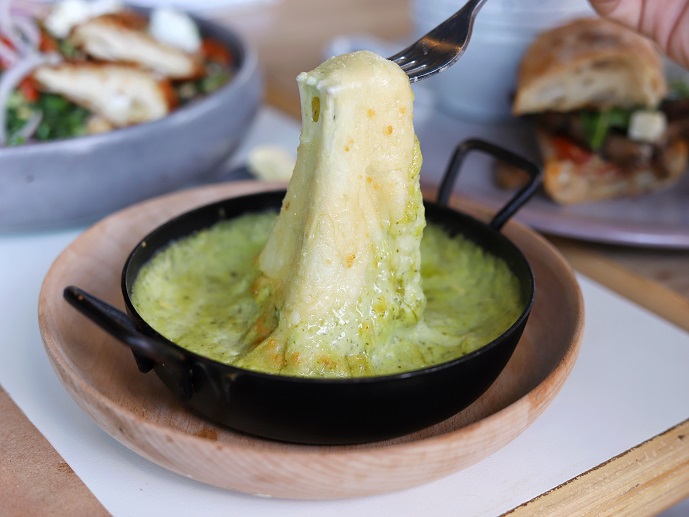 The Fried Chicken Salad had its ups and downs. The salad consisted of a mix of cottage cheese, sautéed mushrooms, chickpeas, tomatoes, grapes, sun-dried tomatoes, a fried chicken breast, red onions, mixed greens, and capers, and was served with a creamy lemon dressing. Although it sounded and looked so delicious, and the chicken had a perfect crust, the whole thing was very unbalanced and felt extremely random. We mean, why is the chicken even fried? The whole dish just needed something to bind everything together and, sadly, the creamy lemon sauce didn't get the job done.
Moving to the Seared Steak Panini, it was extremely confusing. For starters, it wasn't a Panini. Additionally, there was no pomegranate and soy sauce, or any of the ingredients mentioned in the description on the menu. We were just served a steak sandwich, loaded with overpowering wasabi mayo. However, the bread was absolutely incredible and had a beautiful crust. The weird thing is that there was not a single steak sandwich on the menu with wasabi mayo.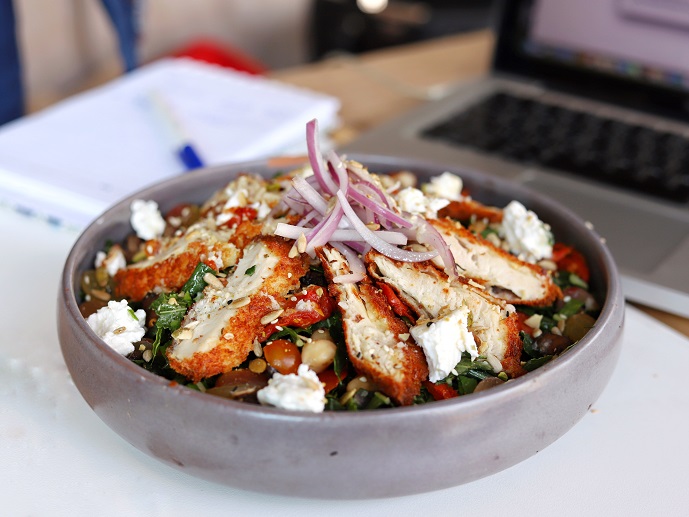 Meanwhile, the Apple Butter and Eggs was, thankfully, a good dish. It came in the form of a beautiful piece of country bread, smeared with apple butter, topped with caramelised onions, fried eggs, bacon, arugula, and another slice of bread on top. It was served with fries and a mini bowl of salad. We loved the overall, sweet and tangy mix of flavours and it was quite an unusual and interesting breakfast dish. We have to say, however, that on the menu it had stated that our dish would contain smoked turkey not bacon.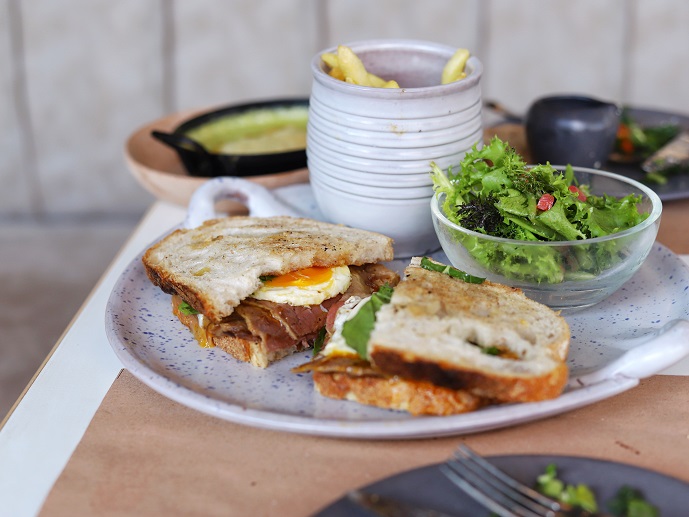 We were super excited to try their French Toast but, sadly, it was unavailable so we went with the Salted Caramel Pancake (80 LE), which took 25 minutes to be served. Besides the not-so-pretty presentation, the sautéed bananas were super bland since they were unripe, and the salted caramel was unsalted, so just caramel. On the bright side, the pancakes were light and fluffy, and the portion was huge, but definitely not worth waiting 25 minutes.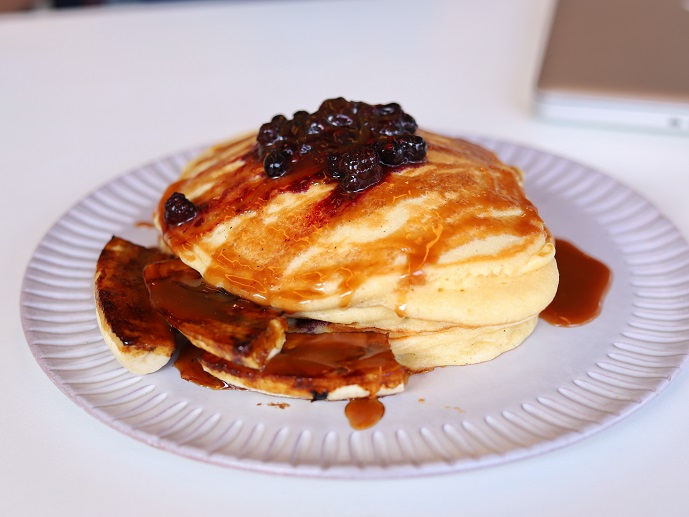 All in all, we have mixed feelings about T.B.S Kitchen. We think they have a strong edge at making dishes that depend on freshly baked goods, but the concept feels rushed and not well thought out, not to mention that it's a little bit overpriced. But then again, it's only their second week in the market, and hopefully, things will get better in the future.