Tabali: Egyptian Street Food at Balady-Chic Restaurant in New Cairo
106 Town Centre, 1st Sector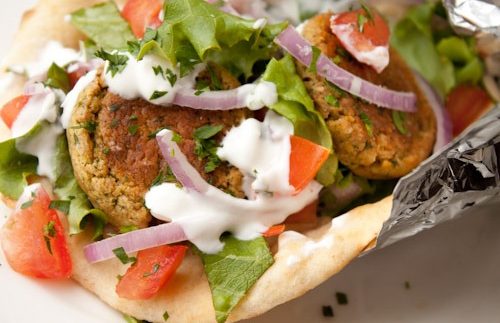 We, Cairenes, definitely love ourselves some foul, falafel and hawawshi. Sushi and burgers may come and go and tastes for international foods may vary, but when it comes to some traditional Egyptian cuisine, none can resist. Tabali is the latest addition to restaurants aiming to serve gourmet Egyptian street food.
We coincidentally stumbled upon this newly-opened eatery in New Cairo and were lured in by its creative design and colourful outlook. With bright blue and perky green decorations garnishing its doors, Tabali sure looked appealing.
The restaurant offers both outdoor and indoor seating. The outdoor seating was, despite its size, way too sunny, especially in the summer. Thus, we occupied one of only two tables available indoors.
The restaurant manager, also working the cashier, was cheerful and quite helpful as he handed us our menus and explained the restaurant's specialties. Our first glance at the menu confirmed the Déjà vu we experienced earlier as we set eyes on the interior design of the restaurant, specifically the pickle jars display area and the chalk boards with food items scribbled on them.
The menu boasted different types of foul, falafel and egg dishes. A modest selection of salads is also offered, with the Beetroot and Rocca salads seeming the most interesting. No-fuss cheese sandwiches/platters were listed as well, alongside an assortment of fresh juices and fresh fruit salads. For those looking for heftier dishes, three rather ordinary pasta dishes were available; basically béchamel and spaghetti Bolognese hybrids. Some hard-core Egyptian beef and chicken liver, as well as hawawshi are available. The dessert section was rather stereotypical, with rice pudding and Nutella, creamy halawa, molasses and jam sandwiches being pretty much its constituents.
We settled for an Original Falafel sandwich (3.50LE), an Eggplant Falafel sandwich (6.95LE), Hawawshi (14.95LE), a platter of four falafel pieces (4.95LE) and a Baba Ghanough salad (11.95LE). For refreshments, we ordered Lemon Mint juice (12 LE) and Sugar Cane juice (10 LE).
Disappointingly, the service was slow and rather staggered; the first two platters of food arrived before the drinks, for example.
Thankfully, the food itself was rather satisfactory. Both sandwiches were filled to the brim with large falafel pieces and salad. The individual falafel pieces were light, crisp and not at all oily. The Hawawshi was similarly crisp, non-oily and generous in well-marinated ground beef. The Baba Ghanough was the one item, however, that left a questionable impression; it was too runny, drizzled with way too much olive oil and lacked the distinct smoky eggplant flavour. The drinks, however, were amazing, to say the least. The Lemon Mint juice was zesty, refreshing and had that delightful lemony tinge to it and the Sugar Cane juice was energising and surprisingly not overpoweringly sweet.
All in all, it'd be a stretch to say that Tabali offers a unique dining experience. Poor service aside, we did end up enjoying the revitalising drinks, while the food itself was decent, if unspectacular. The place was also easy on our wallets, and despite charging a little more for traditionally cheap food options, it was well worth it for the superior quality.