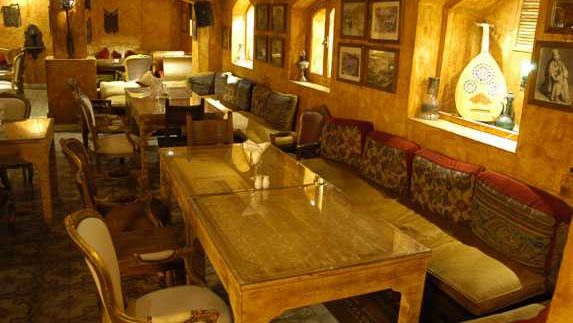 Taboula
is a treasured favourite on Cairo's
dining scene. A rarity amid the narrow streets of residential Garden City, this
below-ground restaurant emanates an inviting glow to those who duck inside its
doors. The restaurant has a pleasant ambiance, with classic oriental-style silk
pillows for couch seating, stained glass sconces on the wall and large rotating
tables. The décor is executed with good taste – and most importantly, of course,
it serves excellent food.
Diners can expect Lebanese cuisine made with fresh ingredients; from baskets carrying
fresh, steaming bread out of the oven, to the complimentary goat labnah presented to diners as they
contemplate the extensive menu. The fatoush
is always fresh and sprinkled with pomegranate seeds, and the hummus Beiruti is garnished with
tomato and parsley. The baba ghanoug maintains
a balance between light and smoky flavours, while the taameya is substantial without being too heavy. Another
recommended favourite is the kebda, which is tender and generously soaked in pomegranate
sauce. Grilled halloumi is a rarity in Cairo
(most restaurants fry it), and Taboula does it exceptionally well.
Specialties
for the more adventurous diners include the semman (small birds) appetiser, in which five fine-boned birds float in
a curious marinade of tangy lemon. The eggplant fatta is also divine, creamy and delicious, although the chicken
fatta with rice is a little
heavy. The shish tawook is also recommended; the grilled chicken pieces are
well-cooked without losing their juicy flavour.
The service is friendly and usually prompt, but it fills up after 7PM when the
evening crowd arrives, and you would be wise to place all your orders at once
to avoid the gruelling process of catching the eye of the maitre d', who sulks
in a black suit near the entrance.
A three course meal for two could go up to 300LE excluding drinks, not bad all
things considered. Appetisers average around 15LE, main courses start at 40LE,
while desserts start at 18LE.
If
you seek the food experience alone, we suggest you snag a table during lunch
hours on a weekday, when the restaurant is sparsely populated; and you can
order at a leisurely pace to your heart's content. Taboula is also known for
its quality shisha, which
compliments an espresso and dessert, if you make it that far.