Tagine: Above-Par Sohour, Sub-Par Atmosphere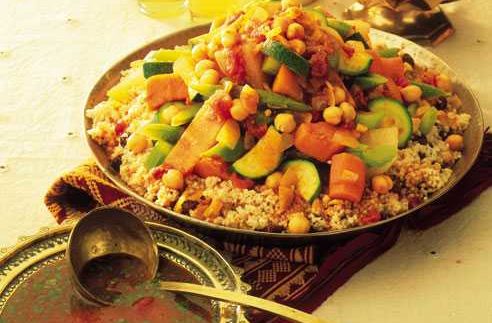 For the entire month of Ramadan, La Gourmandise at the First Mall sheds
its French–inspired menu to cash in on the Ramadan dining craze. Couches are
brought in, lanterns adorn the rafters, and the central catwalk is now
fashioned into an exclusive circular seating area for larger parties. Instead
of a restaurant, Tagine is a Ramadan night lounge, à la Sequoia and El Shagara,
but with less atmosphere and much better food.
Open after fetar, Tagine positions itself as a sohour venue. The service
is exactly what you would expect from La Gourmandise; although it did seem at
times that the staff were flustered with having to care for a full house. When
put to the test, though, every single staff member delivered smiles,
information and food on time.
So what is a jaded diner to do? Ordering one of everything for a party
of two is both ruinous and ill-advised, since the prices are chic-expensive.
Familiar sohour fare is on offer– oriental salads and dips of course (20LE to 25LE)– along with main dishes (65LE to 90LE) that are not suited for sohour, but
worthy of sharing nonetheless. The lamb and apricot tagine was especially
intriguing, and is served with yellow basmati rice. Sadly, the apricots were
completely lost in the translation; the robust lamb flavour badly needed the
sweet tanginess of the apricots as a foil.
There is a limited selection of sandwiches, and we opted for the mesakhana
sandwich, which is like chicken shawerma, but not. The addition of thyme and
parsley are the only differences between the two; and it arrived looking and
tasting sub-par compared to the other dishes on our table. This reviewer is
notorious for avoiding any liver dishes, but the chicken livers were absolutely
divine, as was the labnah with mint, and the cheese and tomato salad. The tehina,
a ubiquitous offering at most dinner tables, was also wonderfully flavoured,
but its consistency was far too watery for it to be enjoyed with our table's basket
of freshly baked bread.
As jaded as one can be, it was undeniable that the food and service were
top-notch; the only caveats being the existence of a 75LE-minimum charge and
the absence of a meaningful atmosphere, despite the live oriental band playing
not ten meters from where we sat. At the end of the day, La Gourmandise –
sorry, Tagine – suffers from its location at the centre of a mall, no matter
how upscale the mall may be.