Tamara Lebanese Bistro: Basic Lebanese Sohour in Citystars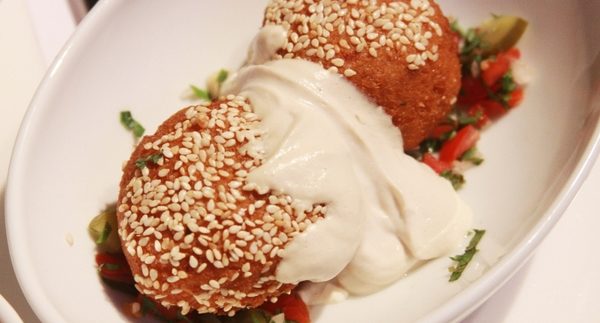 Tamara's special sohour menu keeps it simple.
For 100LE per person, the table d'hôte consists of a choice of eggs, four sides,
a bread basket, yoghurt and mahalabeya—no drinks included. Midnight shoppers at
Citystars or fans of Tamara's main menu should reconsider.
For eggs, we went with both the vegetable
and sausage omelettes and found them decent and sizable for a light sohour. Julienned
red pepper, onion and mushroom folded nicely into a well-balanced omelette that
maintained form and flavour and the seasoned Lebanese sausages gave the dish a
kick.
The sides comprised of Lebanese dips, falafel,
and foul. There was lebna with mint; mixing the light, yoghurt-like cheese with
a coarse chiffonade of mint, and white cheese with tomato; the thicker, soft cheese strewn
with chopped tomatoes and spices. Both were appetising.
The falafel, however, was a disappointment.
Presentation aside, what should have been a crisp, mouth-watering mound was
rather doughy through and through, leaving our palates churning paste.

The only nuance that was distinctly Lebanese was
Tamara's take on foul; a deep tangy bowl of cooked beans mingled with chickpeas
and doused in lemon juice and olive oil. The hearty staple heightened the
twilight experience; and to scoop it up, two variations of freshly baked breads – classic shamy bread and a Persian sesame bread that tasted like foccacia – were the menu's
saving grace.
At the end, a cup of Activia yoghurt and a
generous helping of mahalabeya pudding were served but the latter was faint in
flavour. A dash of rose water would do the trick.
All in all, Tamara's sohour offering was
just fine. Touted as fine Lebanese cuisine, Tamara set our expectations high
and left much room for creativity, even only for a sohour meal.
Arriving an hour before sohour, we took in
the modern fixtures, the white-washed walls and grey modular mashrabeya, and
enjoyed a watermelon sheesha (arguably the smoothest drag in town), a game of
backgammon, and a round of sobia and lemon mint that could quench – this was more
worthy of a visit.
Tamara claims that it's almost fully booked
into the end of Ramadan, but tables at the time of review were noticeably
empty. It's best to call in advance. Sohour starts around 10PM and
lasts until 1.30AM.