Tamara Lebanese Bistro: New Citystars Restaurant Opens in Time for Ramadan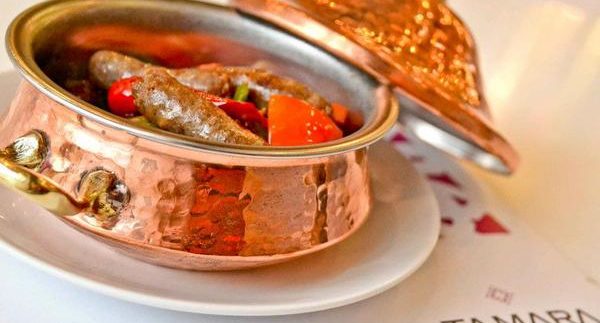 Tamara in Citystars serves
traditional Lebanese food with a modern flair. Brought to you by the same
people behind Mori Sushi, this time they're looking to entice Cairo with an authentic taste of Lebanon. Located just across the VIP cinema on the ground floor,
it caused quite a stir in the weeks leading up to its opening.

In a mostly white-washed
interior, colourful oriental patterns and arabesque decorations accent the
space, while the staff are clad in a galabeya-like uniforms of pink and grey. Tamara
has multi-level seating areas to separate the smoking area from the non-smoking
one. The restaurant also serves shisha (25LE) and with sufficient ventilation, the
smoke won't irritate you.
With Lebanese chefs, we were
eager to begin ordering. The maqanek (Lebanese sausages) with potatoes and
pomegranate dip (40LE) was heavenly; the sausages were delicious
and perfectly spiced. The dish came with
thin, fried potatoes and was soaked in the rich wine-red coloured dip that was sweet
and distinctly sour; a perfect combination and a must try.
The potato soufflé with minced meat
(35LE) seemed to have come right out of the oven to our table. The mashed
potatoes were soft and creamy but could have used an extra pinch of salt. The lower
layer of minced meat was well-cooked and flavourful.
Other appetizers include hummus (20LE-45LE),
vine leaves (25LE) and kabbe nayee – or kobeiba (40LE). In addition, they have
Lebanese pastries, such as chicken and shrimp roqaq (39LE and 45LE), fiteer with
spinach (30LE), manakeesh (25LE) and meat in pastry (35LE).
For a main course, we ordered the
baby chicken messahab (70LE); half a grilled chicken with thyme and mixed with
potatoes. Fresh tomatoes and mint leaves gave it an extra special touch.
The whole plate was covered with thin Lebanese bread freshly baked in front of
us in their open kitchen.
Out of several shawerma options
we tried the chicken shawerma plate (50LE). The shawerma came in a generous amount,
wrapped in delicious Lebanese bread. With garlic sauce (tomeya) on the bread,
the chicken was mixed with tomatoes, tasty herbs and topped with mint leaves. They
also offer meat shawerma plate (55LE) and mini shawerma sandwiches (chicken 35LE and meat 45LE)

There are also fattah plates such
as chicken fattah (45LE), lamb fillet fattah (55LE), and fattah with hummus and
pine nuts (55LE).
We ordered konafa with cheese (35LE)
for dessert, which was served quickly and initially given to us on the house.
However when the order didn't turn up correct, the waiter quickly apologized and soon after brought
us the right one, only this time we were charged for it. The konafa came topped
with a thick layer of cheese and was covered in syrup mixed with nuts and Lebanese
mazaher. To guarantee the full experience, have a bite with all ingredients
together.
We washed it all down the lemon with mint (30LE)
that is blended milk, lemon, mint syrup, and little mint chunks. It was
refreshing and one of the best lemon drinks we've had.
Despite the fact that our table
was a bit too small to handle all the dishes we ordered,
Tamara succeeded in tempting us to return – especially with the month of
Ramadan upon us.