Tasbera: Delicious Egyptian Food at Citystars
Citystars, Fourth Floor, Phase One, Omar Ibn Elkhattab St.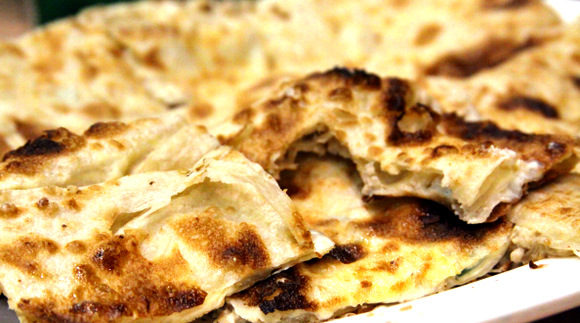 It's amazing how many restaurants attempt cooking Egyptian home food. It's even more amazing how many of them do it terribly, and it makes you wish you were in fact eating at home. It seems like there's always someone's cooking in the family that's better than what you're being served and that sets the bar incredibly high for restaurants, but every so often a new player comes along and manages to impress.
Located in the Khan El Khalili square within the first phase of City Stars, and designed with classic oriental decor, Tasbera has been open for business for about three months, and is owned by the same people who own Strada, the Italian restaurant a few steps away.
The restaurant is quite and relaxing and offers a great break from the bustle of the crowded mall. We sat on a comfortable L-shaped couch in the corner, surrounded by Kitsch artwork of modern Egyptian figures, portraits of antiquities and of course, TV screens. The dominant colour scheme is a mixture of turquoise and wood brown. The experience was complete with friendly and extremely hospitable waiters. Now it's time to see what the food is like.
Divided into different sections, the menu offers breakfast food including foul, falafel, eggs and cheese between the hours of 10am – 1pm, and then moves on to the main courses which include fried liver, sogo' and liver fajita and fried kofta, in addition to sandwiches and casseroles all ranging between 30LE-40LE. While the restaurant serves a set cuisine, we wanted to evaluate some of the creativity within that, aside from the classic dishes.
From the starters, we opted for Alexandrian Liver (19LE) which had a considerably larger cut rather than diced like in sandwiches, and served with chilli peppers. The seasoning was incredible and the liver had just the right texture.
We ordered the Sogo' Fajita (54LE) which was served sizzling in a hot plate just like Mexican fajitas, but the ingredients were very oriental. Great tasting Sogo' with a mixture of mushrooms, bell peppers, onions and olives, served with a bowl of white rice and french fries. No sour cream or cheese, so basically a half fajita and half Egyptian meal. With that said, the dish tasted great and the portion was generous.
We also ordered the Mixed Cheese Feteer (40LE) based upon the waiter's recommendation. Light, delicious and absolutely stuffed with cheddar, roumi and Kiri, yet somehow not greasy at all, this is definitely one of the top contenders for best feteer in Egypt.
We had wanted to try the oriental desserts, but by that point we were too stuffed and instead opted for the Tasbera Cocktail (25LE) which consists of fresh mango and kiwi juice plus pieces of kiwi. Generous in portion, refreshing and slightly zesty, the juice was just as good as everything else we tried.
All in all, our experience at Tasbera was a great one, from the great and hospitable service to the chic decors and the excellent food, Tasbera should definitely be your lunch option the next time you swing by City Stars.