Tatbila: Traditional Tajins at Modest Maadi Restaurant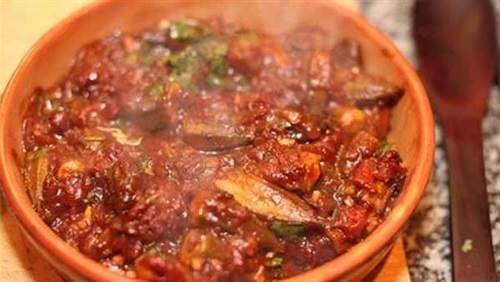 Located on a typically quiet street in Maadi Degla is little-known restaurant, Tatbila – Arabic for 'seasoning'. The exterior of the restaurant is as ambiguous as its name and gives not even the smallest hint to what type of cuisine it serves, but for two words plastered above the shopfront – tajins and grills.
The interior of the small Middle Eastern eatery is small and square, housing six tables. The area is clean and has a plain sophistication about it, bar the customary television screens. One thing that was immediately obvious during the time of our visit was the warm and genuine hospitality of the staff.
Tatbila's menu features the expected classics of Oriental cuisine, including some from the Gulf.
Some of the more popular items on the menu are the okra tajin, molokheya and moussaka, all of which range between 30LE and 65LE in price. As is the case with most similar restaurants, grilled meats are ordered by the kilo, with kebab at 140LE per kg and kofta at 95LE per kilo. On the poultry side of things, grilled chicken, pigeon and stuffed quail sitting between the 40LE to 50LE range.
In terms of appetizers and side dishes, classic Egyptian and Lebanese dishes are offered including balady salad, tehina (5LE each), as well as taboula and fattoush (7LE each). Hot appetisers are plentiful, too, with the 45LE 'Oriental Mix' platter (45LE) dishing up servings of Egyptian-style liver and kidneys, grilled Oriental sausage and Lebanese favourites, kobeba and sambosek. The standout items of the platter were, by far, the liver and the accompaniment of sliced bell peppers with the sausage, while the kobeba stood out as the ugly duckling of the selection – it was both bland in taste and generally out of place amongst the other foods on the platter.
Overall, though, the platter is a fine option that is big enough to be a full meal in itself and excellent value for money.
From the various tajins on offer, we went for the ox tail with onions (65LE), which unfortunately was heavy on the onions, light on the ox tail. Despite that, the meat was cooked and seasoned perfectly and is amongst one of the best preparations of an often mistreated delicacy. The grills, however, were a little disappointing. Though the kofta was decent, the tarab – minced meat wrapped in sheep's stomach lining – was well-seasoned, but overcooked; a theme that seems to apply to the restaurant's grilled items.
Though it is by no means perfect, Tatbila does excel on several levels; the service is friendly and fast and the quality of food is generally high across a menu that offers a lot of dishes that might otherwise be difficult to find in an area like Maadi.