Capital Business Park, 26th of July Corridor, Giza Governorate

As big fans of Ted's, we were super excited to hear that they finally opened a second branch for the people on the other side of town, aka Sheikh Zayed residents.
Located inside Capital Business Park (CBP), Ted's has a cosy indoor dining area surrounded by work stations giving the venue energetic vibes. Meanwhile, the outdoor area consists of some randomly placed tables overlooking CBP's pathway. It is important to note here that the number of uncomfortable chairs far outnumbered that of the comfortable ones.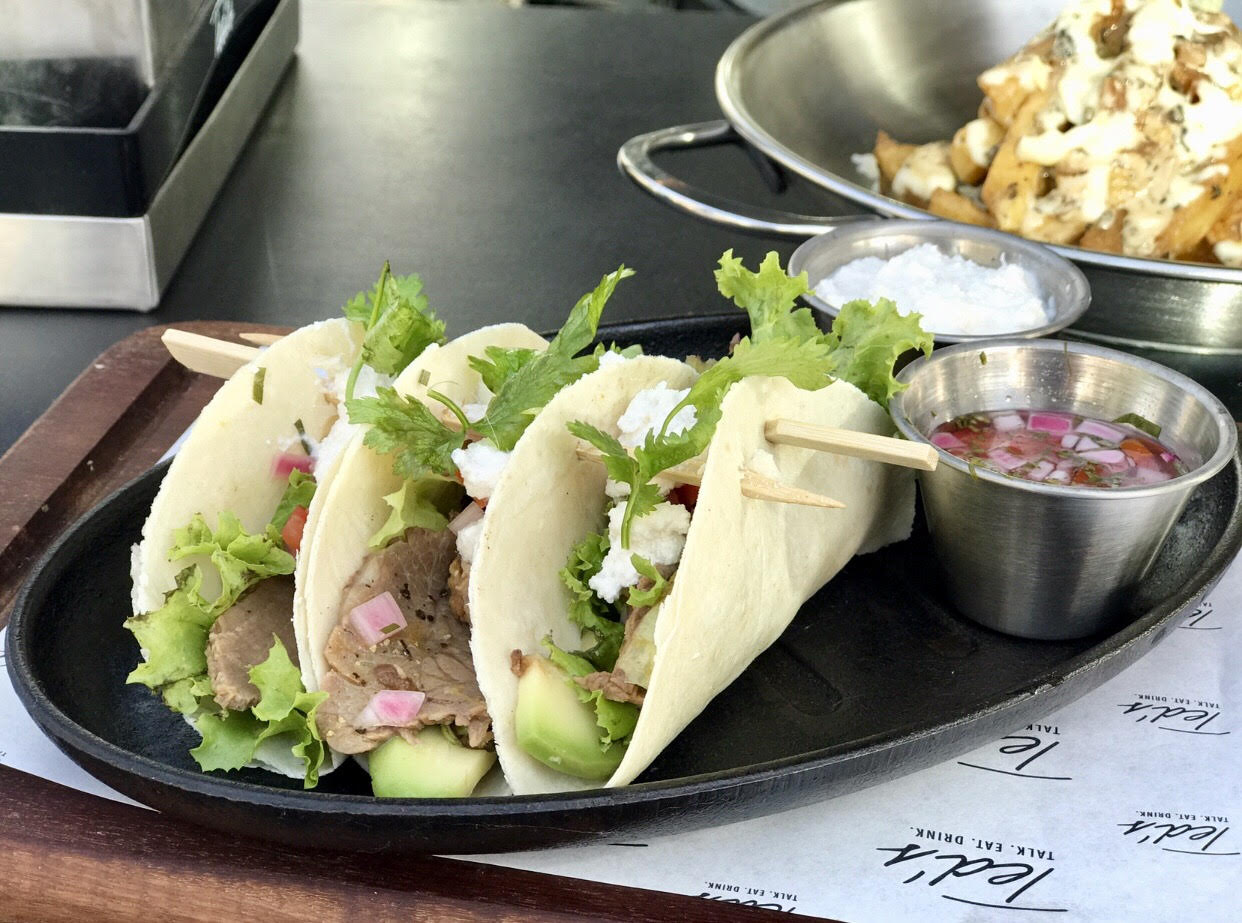 Moving on to the food, we decided to give some of Ted's new items a try. As such, the Pulled Beef Tacos (90 LE) and the Loaded Fries (75 LE), which acted as our appetisers. Three soft shelled tacos filled with thinly sliced roasted beef, and topped with avocado cubes, sour cream, pico de gallo, and fresh coriander leaves, soon arrived to our table. Think of these tacos as more like a cold cut version of regular tacos. Although the overall flavours were good, the beef wasn't actually pulled beef as promised on the menu, and the pico de gallo flavour was a bit overpowering.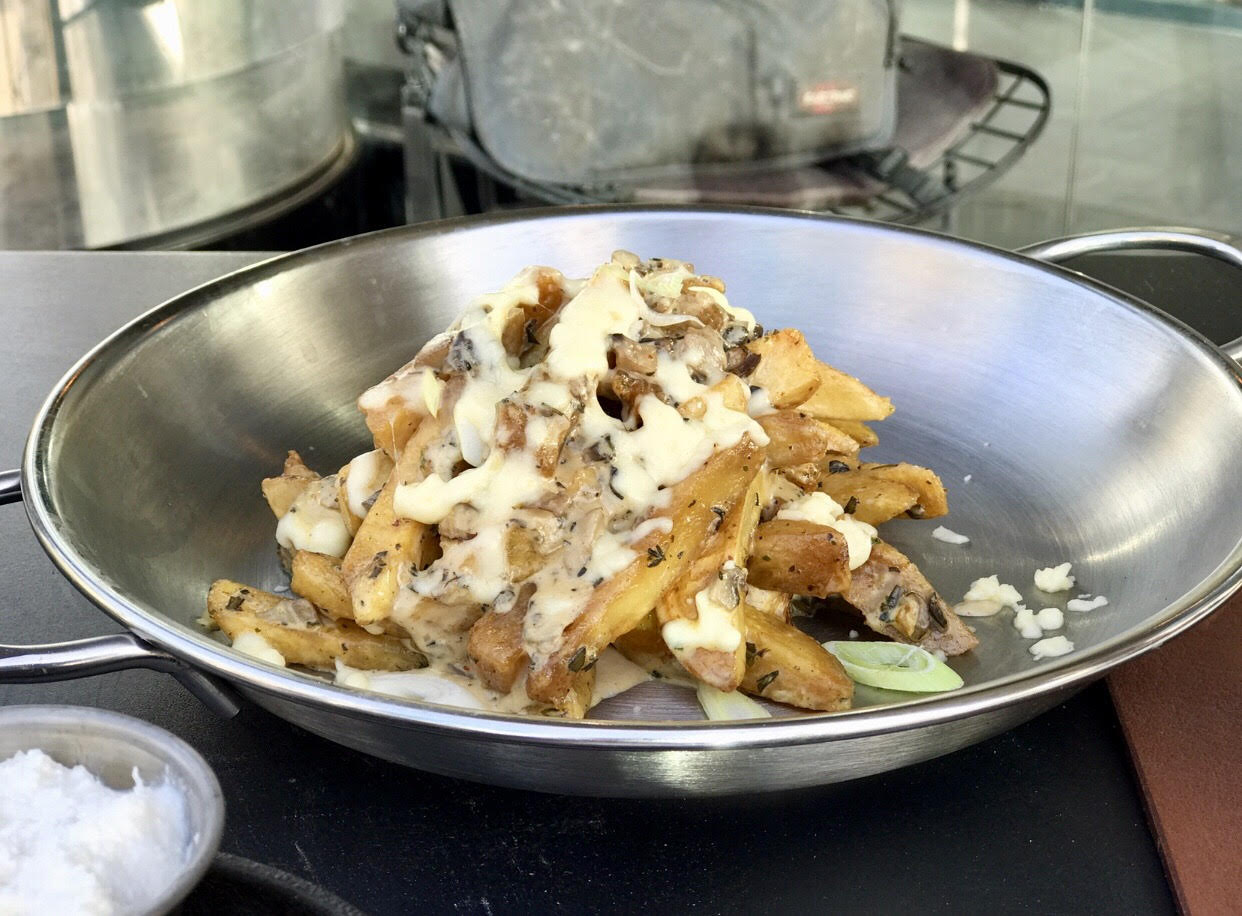 As for the loaded fries, the dish came in the form of a perfectly cooked, hand cut potatoes, showered in mushroom ragout sauce, adding some fantastic earthy flavours to the dish. The fries were also topped with melted mozzarella and sliced scallions; these toppings proved to be a perfect match to the mushroom sauce. We just loved the poutine-like appetiser. Simply the star of the meal.
When it came to the mains, there were many choices available; from paella and steak, to all kinds of pastas and pizzas. We, however, decided to give the Mozambique Peri-Peri Chicken Burger (85 LE) and the Pan-Fried White Fish Fillet (120 LE) a try.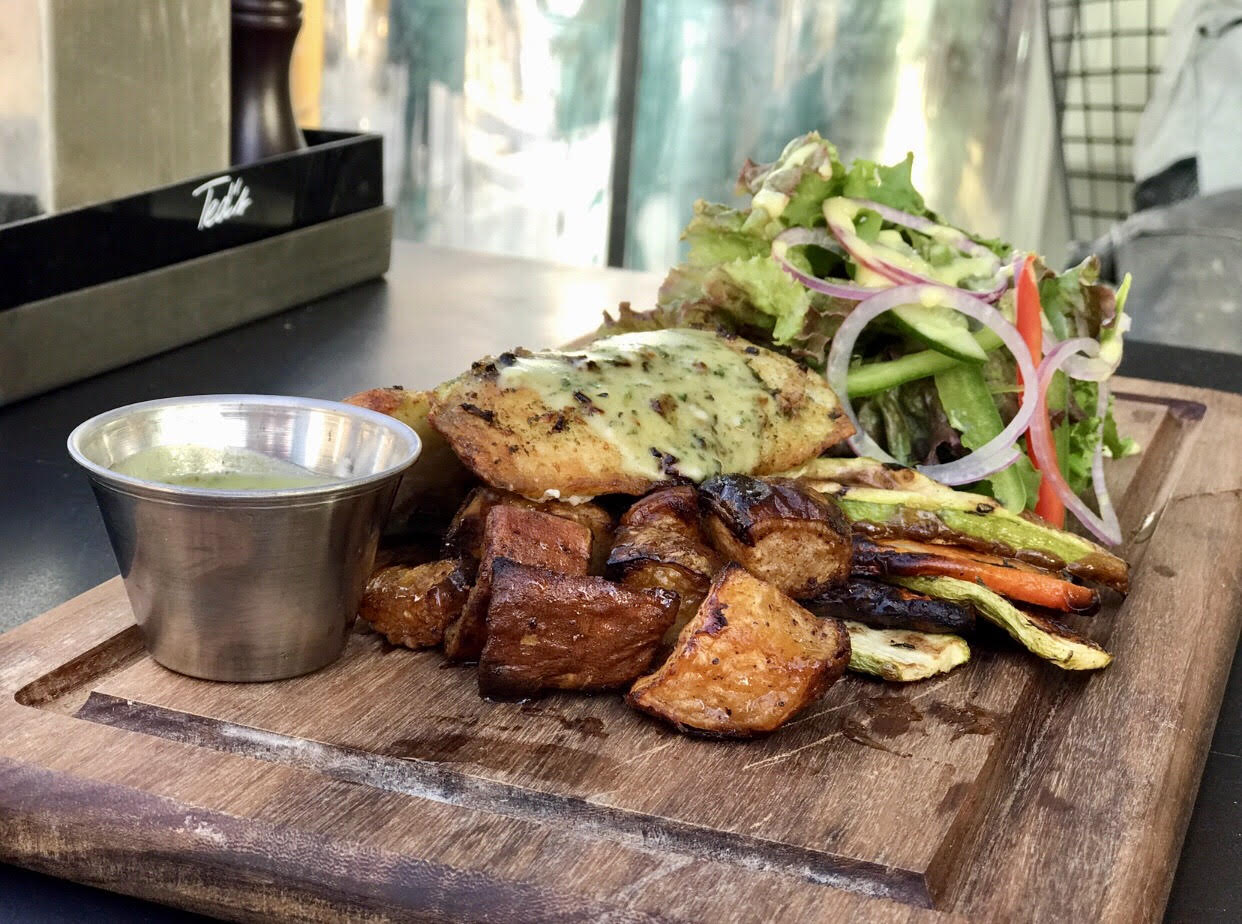 The Mozambique Chicken burger was made with well-seasoned grilled chicken thighs, topped with fresh greens and a fantastic lime mayo, and served in a fresh homemade burger bun with a side of well-prepared fries. The sandwich was very light and full of pleasantly spicy and zesty flavours that are definitely worth trying.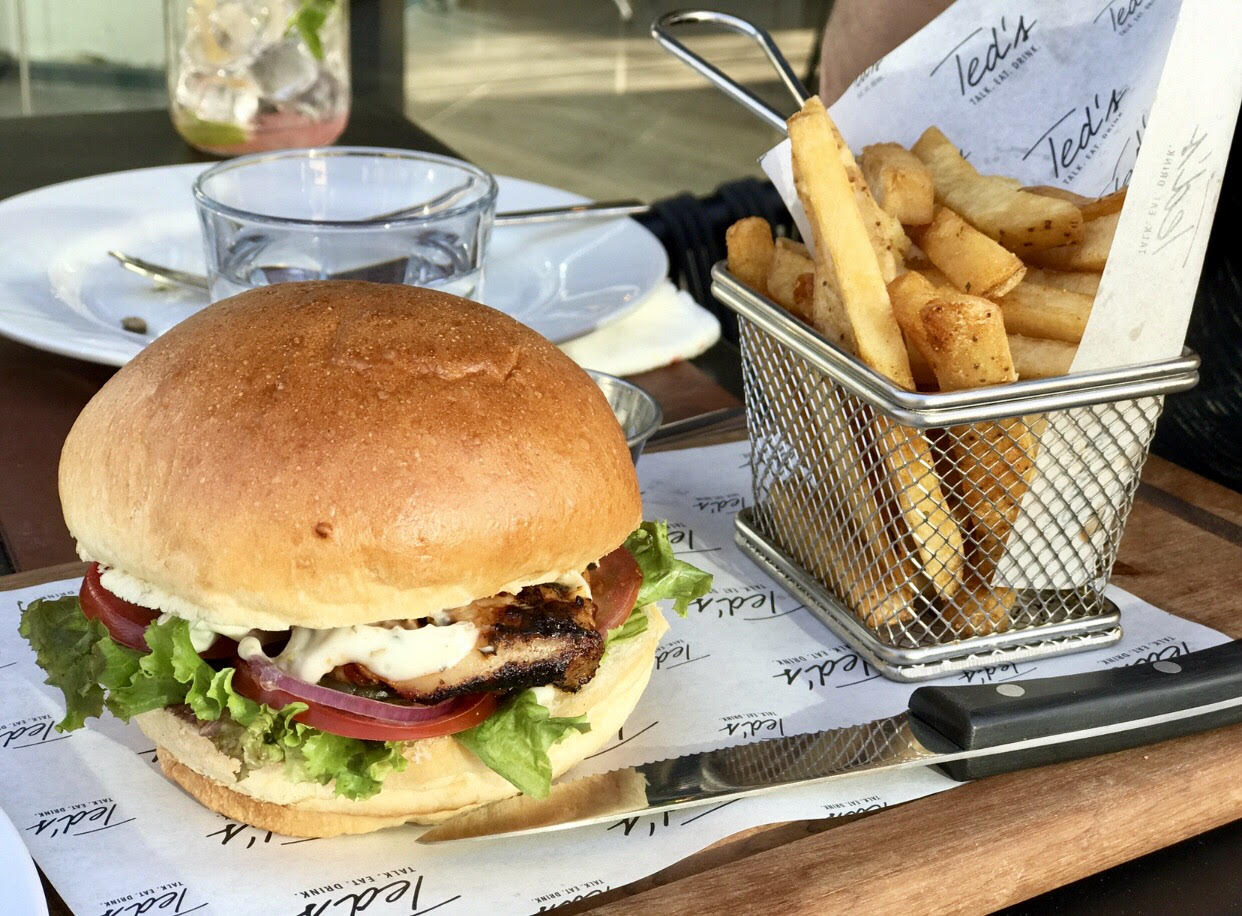 The white fish fillet was also great. Served with killer cinnamon and honey glazed sweet potato cubes, roast veggies, and fresh green salad. The pan seared white fish had a fantastic crispy crust, yet retained its tenderness. It came with a bowl of perfectly executed beurre blanc sauce -aka white butter sauce- infused with basil. The presence of all these elements took the fish to a whole new level of deliciousness.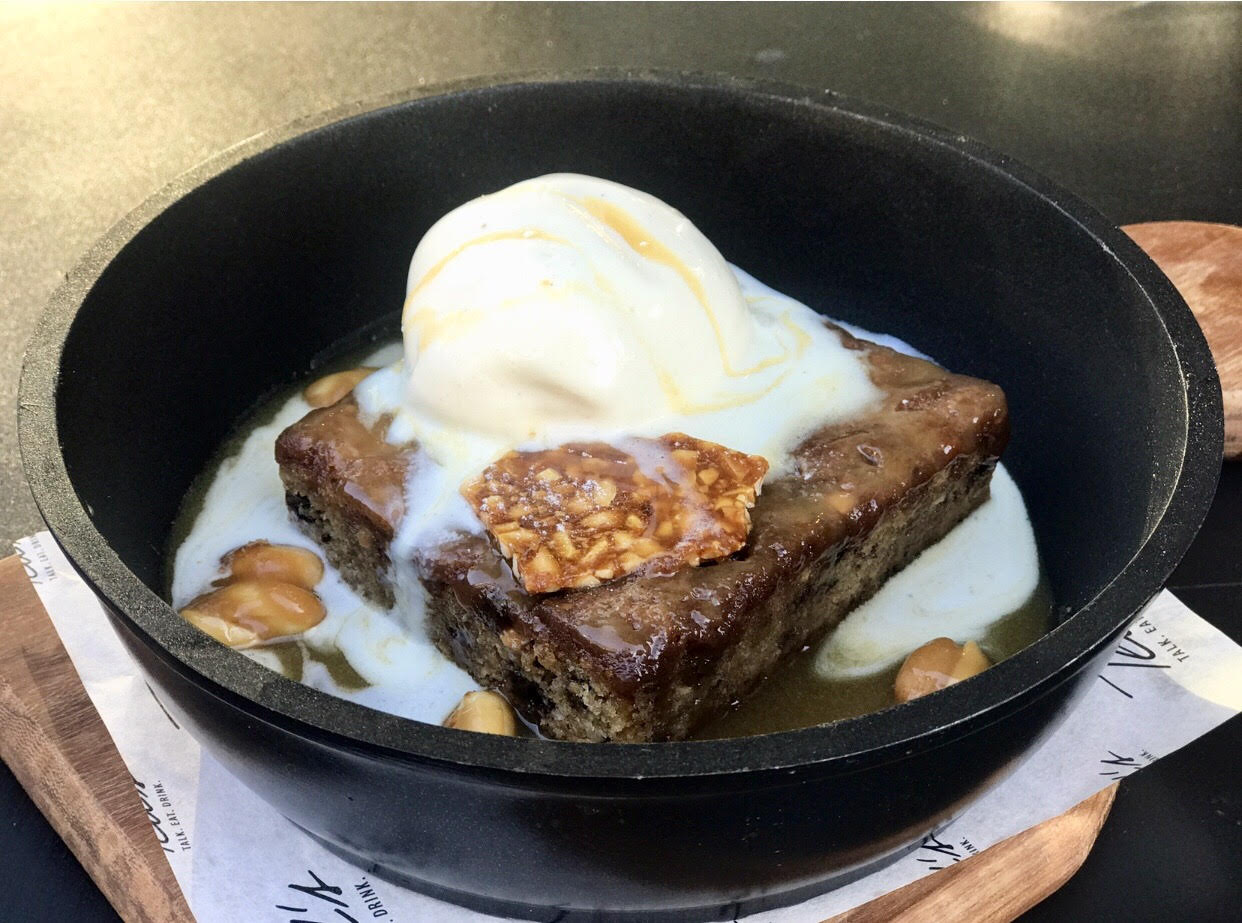 We finished our meal with Baked Peanut Butter Pudding (65 LE) for dessert. Despite the not so pretty presentation, the baked pudding had a cookie-like chewy texture to it, and the PB flavour was just spot-on. The ice cream scoop, caramel sauce, and peanut brittle also complimented the pudding perfectly without overshadowing its flawless execution.
All in all, we really had an amazing time at Ted's new branch. The newly updated menu is great, the venue is quite nice, and the prices are fairly reasonable. If there's one thing they could fix, it would have to be the slow service.