Tempo Restaurant and Lounge: Cairo Desert Dining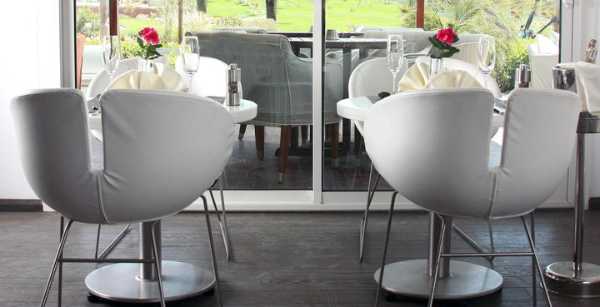 Let's begin with the following important information:
Tempo is primarily an outdoor restaurant in Cairo. Now while the surrounding
Greg Norman-designed golf course is a beautiful thing to behold, it does not
lend itself well to an afternoon lunch; since you'll be baking in the summer
sun. The indoor area of the restaurant has two low tables enough for four people
seated on comfortable couches, and four smaller tables squeezed into the spare
nooks and crannies. You should also know that the indoor area is decorated
attractively with bookcases and a military-grey fireplace wall, but also serves
as a main thoroughfare of foot traffic for golfers entering and leaving the clubhouse.
So what we have here is a classic 'rock and a hard place situation,' regarding
where to sit.
The upside to all of this is that wherever you sit,
you should have a great meal.
Tempo has one of the smallest and most focused menus in
Egypt. Occupying just two pages, it's an imaginative mix of lunch options
(Australian beef burger: 38LE) and expertly prepared dinner selections
(Mediterranean chicken, 42LE). The salad selection surpasses the humdrum
offerings of other restaurants of a similar calibre– a case in point is the
honey and cinnamon smoked mozzarella salad; the bastard child of an American
Waldorf salad and an Italian Caprese salad, dressed up as a turkey salad. Even
the dessert, often neglected or sidelined by most restaurants, strives to
continue the standards set by the other menu offerings– the strawberry mousse
on its own is not anything special, but is elevated by the accompanying
strawberry karkadeh sauce.
Visually, the food matches the surroundings. Gustatory-wise,
it mimics the golf course: most holes are fun and challenging to play on, while
others are littered with water hazards and deep bunkers, and earn your ire
quite easily. Though the burger was touted by the superb and incurably
effervescent wait staff as the best thing on their menu, it sadly does not live
up to its moniker. The size is certainly impressive, and it is always cooked to
order, but the overall flavour is distinctly lacking and vaguely reminiscent of
a burger that you could have at the Gezira Club.
The greatest achievement has got to be the steak
sandwich (42LE), which is of such quality and flavour that it may haunt your
dreams, and will most likely serve as the inspiration to make the long drive back
to Tempo. Another study in presentation and expert cooking skills is the
Mediterranean chicken served with a red pepper coulis. The dish is succulent,
crispy, and has the depth of flavour reserved for ambrosia or indeed for dishes
three times its price.
Price, you say? Definitely affordable; actually, surprisingly
so. It is very refreshing to see a high-quality restaurant that does not feel
the need to charge an arm and a leg just to pose as a high-class dining experience.
The menu is apparently designed to encourage you to order two courses; ordering
three courses is a bit much, because the portions are quite generous.
Once relegated to the fast food and casual dining
options at Dandy Mall or Meeting Point, the folks living in 6th of October City
now have their own gourmet gem. For the first time, probably in the history of
mankind, there is now a reason to drive out to the desert. Its name is Tempo.