Terrace: Zamalek's Black Rock Restaurant Gets a 'Makeover'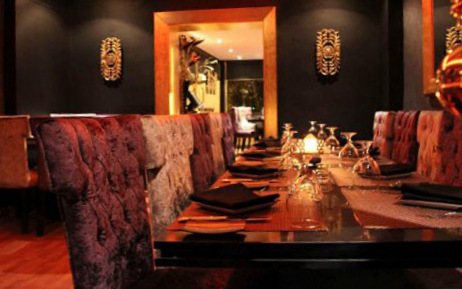 With restaurants in Cairo having such a high turnover, there's always a new menu to try out somewhere at any given time. A good location and easy parking options are a huge bonus in an area like Zamalek; the inconvenience of parking alone often dictates your dining destination for you. Located across from the Aquarium Grotto Garden, Terrace offers a mix of Western and Oriental cuisines as well as beverages and shisha.
Formerly Black Rock Restaurant, the venue has barely changed. Taking a short flight of stairs off the street through a large golden door, you are greeted with slightly confused aesthetics. Gold and black is the dominant colour scheme, with button padded couches and chairs. While comfortable, the decor is a little too much, and certainly over the top for the cuisines served. It's almost like a cigar bar – but without the cigars.
All other factors pale in comparison when the food is good. So to start, we opted for sambousak with cheese (21.90LE) from the appetiser section of the menu. Served on a bed of red cabbage with a spicy dip, the sambousak itself wasn't what we expected and was in fact closer to a savoury version of popular Oriental sweet, atayef, in both shape and texture. In addition, the portion served was rather small and the cheese used was not the traditional kind, but mozzarella – or something very close to it.
Of the pastas on offer, we opted for a penne carbonara (36.90LE); penne pasta with slightly roasted cold cuts, bell peppers and a particularly creamy and cheesy white sauce. Quite generous in portion and surprisingly tasty, the penne carbonara was a definite success.
From the main course options, salmon steak (89.90LE) immediately caught our eyes. Supposedly cooked with butter and lemon, the salmon lacked in flavour and was under-seasoned, despite being cooked just right. The sides served with the dish weren't much better either; first, a slightly undercooked risotto – a commonplace phenomenon in Egypt – which would've been perfect had the rice been left to cook just for an extra minute or two. The herb-seasoned French fries, meanwhile, were rather good.
Despite the disappointing food, the service was spot on; not the staff refrained from hovering – as so many do in Cairo – but were always available. Our waiter made it a point to always say 'you're welcome' when we said 'thank you' which we found very hospitable – it's the small things that count.
Relatively empty, and generally calm, Terrace is a convenient place for a quick mid-day meal, especially that parking won't be as big of a hassle as most, if not all, places in Zamalek.