Thai Elephant: Sabai Sabai Becomes So-So Thai in Zamalek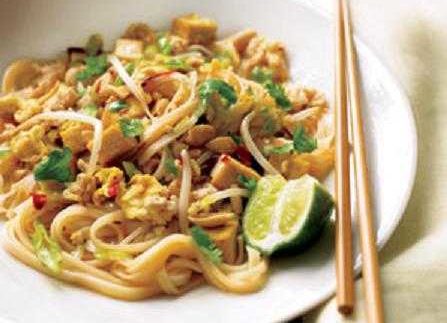 When news spread that Cairo restaurant Sabai Sabai was closing its doors,
Zamalek residents feared that they'd need to leave the island to satisfy their
pad Thai and coconut milk curry cravings. However, the venue quickly reopened
as the Thai Elephant. Now, Zamalek residents just need to leave the island for good Thai food.
Next to the Nile Zamalek Hotel and popular hangout Pour Vous, Thai
Elephant is an eclectically decorated eatery. Although the venue has space
for outdoor seating, customers are almost always urged to sit inside. While
there are usually never more than a few full tables in the spacious dining
room, the persistent wait staff will seat customers close together; preventing patrons from having an
intimate experience at the Thai Elephant.
Customers are immediately presented with a large bottle of water (9LE)
and miniature fried spring rolls as a gift from the chef. The vegetarian amuse bouche is served piping
hot alongside cool sweet and sour sauce; and is sure to be one of the high
points of dining at this restaurant. If you can't get enough of this savoury
starter, a full order can be had for 10LE. Appetisers include several varieties
of spring rolls, fried shrimps and soups, all ranging from 10LE to 30LE. A popular Thai dish, coconut milk broth soups
are available with either chicken or vegetables. While the broth itself is
tasty, the added ingredients actually subtract from the soup's quality.
Although a long list of main courses exists at Thai Elephant, we suggest
sticking to the simpler dishes on offer. The vegetarian green curry (29LE) is
filled with lightly fried, firm tofu and a variety of vegetables including
carrots, courgettes, mushrooms and broccoli. The tofu and carrots are
satisfactory, the broccoli is actually quite fresh and tasty, but the courgettes
are waterlogged and the mushrooms are canned. Thankfully, the green curry sauce
has a nice kick and a rich flavour. Rice is not included; so expect to pay 7LE
to make a full meal out of this dish.
The shrimp pad Thai (39LE) is not the best rendition of this Thai cuisine
staple. The noodles are cooked fine and the shrimp is perfectly average, but
the dish lacks an overall quality of freshness and has a slightly funky smell.
Overall, this isn't the best Thai joint in Cairo, and it is rather overpriced for the quality
and quantity of food, easily reaching 250LE for a simple meal for two. Still, if you're in the neighbourhood and
need to satisfy your Thai craving quickly; Thai Elephant will nearly get the
job done.