The Blue Restaurant: Cairo Fine Dining Your Way
Kempinski Nile Hotel, 12 Ahmed Ragheb Street, Garden City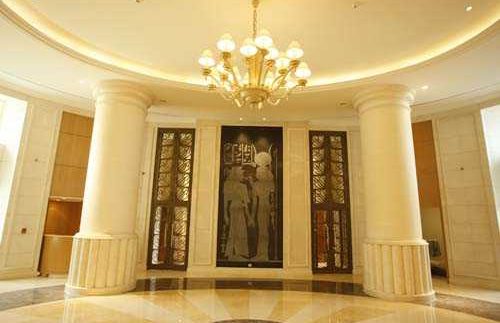 There really is something fundamentally off about the
idea of the diner choosing– and designing– their own dish. Firstly, most diners
are not chefs; secondly, some diners don't know what they want; and thirdly, all diners
want to know exactly how much their meal will cost. Nevertheless,
the concept of having a bespoke meal can be exhilarating, especially for a reviewer
who happens to be a chef and a decisive foodie.
Located on the 2nd floor of the brand-spanking-new
Kempinski Hotel, The Blue Restaurant is unlike most other fine dining restaurants in Cairo:
they have no menu. While this concept is not new to Cairo– the Holiday Inn at City
stars flirts with the idea of a bespoke menu every Friday– The Blue Restaurant dives in head-first. Instead of a traditional menu, the restaurant offers a
greatest-hits list of prestige proteins with fixed prices regardless of the
added ingredients, and challenges diners to come up with their own recipes.
The decor is equal parts summery lightness and Holiday
Inn breakfast buffet, with comfortable cream couch seating and baby blue
tablecloths. The service was nice almost to a fault, and the wait staff were
visibly proud of working for such a unique restaurant. Their enthusiasm
compensated for their opening-week jitters and minor missteps. Indeed, the
service is on par with what you would expect from a new hotel restaurant–
nothing more, nothing less.
Following a complimentary plate of brown bread and
dips of olive oil with thyme, sundried tomatoes with sea salt, and labnah
cheese, we ordered the starter of tomato soup (20LE), which won top marks for
presentation, but fell short in the flavour department. A little more pepper,
perhaps; and maybe a roasted tomato confit would have helped. The Waldorf Salad
(20LE) arrived looking splendid and did not disappoint with a light dressing,
crunchy apples and walnuts, as well as a smoky note that we couldn't place but that delighted
us nonetheless.
Main courses were a pan-seared beef filet with garlic
pomme purée and caramelised pearl onions in a red wine jus (around 210LE), and
a lobster thermidor with seafood risotto (85LE). The filet of beef looked
splendid on a square plate with decorative smears and flourishes, while the
lobster tail just sat rather unhappily on a mound of rice. Ordered medium, the
beef filet was cooked just so, but did not have enough time to develop a decent
sear.
The stars were really the accompaniments– the
astoundingly delicious seafood risotto was fragrant, flavourful and flowing.
The creamy pomme purée and the quartet of caramelised pearl onions played
together wonderfully and complimented the beef nicely.
Our imagination had run out by dessert time, and the
house special that day was a cinnamon crème brulée (35LE), which turned out to be the only
plate of food not completely devoured. The caramel crust was woefully
underdeveloped, and did not supply the all-important crack when hit with the
spoon, while the texture and flavour of the custard underneath was
unsatisfying. There is no denying the expertise of the cooks in the kitchen,
but the only real test of the resident chef's imaginativeness was the dessert,
and it failed.
Nonetheless, the restaurant's prices were surprisingly
reasonable for such a luxury hotel and such quality ingredients, but it sadly
failed to measure up to our expectations after the amazing experience of their
Turkish restaurant, Osmanly.