The Medley: Crunchy Salads and Grill in Zamalek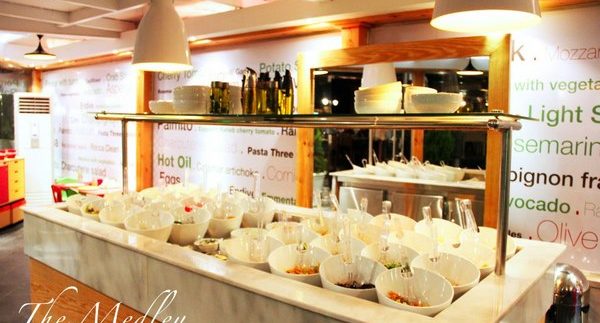 A little further down the Corniche after the famous
Sequoia
and
Left Bank
, is a hidden gem on the Club 33 boat. The Medley is positioned slap-bang in the middle of the complex and has a large number of seating, most with uninterrupted views of the Nile. The upper and lower patios are modern, clean and comfortable, using neutral colours and red cushions to create a homely but contemporary affect. The dim lighting and old classics playing in the background contribute to the relaxing atmosphere.
We were greeted – and seated – by a well-dressed, polite and friendly waiter who promptly brought us our menus. We were under the impression that salads were the main speciality of this place, however, they offer much more than just cold delights. The menu is vast and detailed, offering a range of Appetisers to tantilise anyone's tastebuds. The Medley boasts one of the largest self-serve salad bars, with over 40 fresh ingredients to choose from. However, if you're not a huge fan of rabbit food, it also caters for the carnivores amongst us with a wide selection of meat, chicken and pasta dishes. There are also numerous fruit cocktails, smoothies and sodas to mull over.
To quench our thirst we decided it was vital that we try the Fresh & Fruity Cocktail (21LE) and a Pink Lemonade (21LE).
For starters, we picked the Bruschetta Caprese (36LE), which, in simple terms, is mozarella and tomato salad on toasted baguette. When it came to our mains, instead of inventing our own salad, we went for one of the chef's creations; a Thai Beef Salad (46LE) and, to add some carbs, a Chicken Club Sandwich (42LE).
The drinks arrived in large, attractive cocktail glasses. The Pink Lemonade was amazing; a mixture of real, freshly squeezed lemon juice and grenadine. Being such a simple and delicious recipe, we are bewildered as to why more places don't readily offer it. Our second cocktail was equally as satisfying, tasting precisely as its name suggests; a fresh and fruity fusion of pineapple, cranberry and apple juice with sweet cherry syrup.
Unfortunately, the Bruschetta Caprese came at the same time as the main meals and was not as warm, or as toasty, as we had hoped. The Thai Beef Salad was a huge mound of all the usual, fresh salad suspects along with radishes, lots of beef chunks and glass noodles. Although it was an enjoyable combination, we almost regretted not making our own as we would have had complete control over what went in and what didn't. The Chicken Club Sandwich was sizeable and piled high between, what we like to call 'real bread'; thick and fluffy bread that doesn't look stuffed with unnatural preservatives. The succulent chicken was coupled with moist turkey pieces and complemented with a small green salad on the side.
After we'd sufficiently stuffed ourselves with healthy food, because the team at the Medley claim to be 'desert fanatics', just like us, we needed a Chocolate Fondant (28LE) to take home and enjoy later. On the evening we were there, this gooey treat had sold out, making way for our second choice – an almond cake with caramel sauce and vanilla ice cream, the Caesars Pie. The head chef himself appeared at our table to inform us that, because of food hygiene reasons, it would not be responsible of him to give us the ice-cream. Impressed by his professional manner, we were perfectly happy to lose out on the ice-cream and only take the cake.
By the time we came to taste our desert, we imagined that had it been fresh, it would have been tastier than it turned out to be. We weren't expecting it to be a standard sponge cake, and it needed more caramel sauce to help bring it to life.
On the whole, The Medley gave us a lovely dining experience, with fresh, healthy food and drinks. The idea of creating your own salad is unique and fun for people of all ages and we will most definitely be returning.