The Noodle House: Heliopolis Asian Cuisine
Tivoli Dome, Omar Ibn El Khattab St.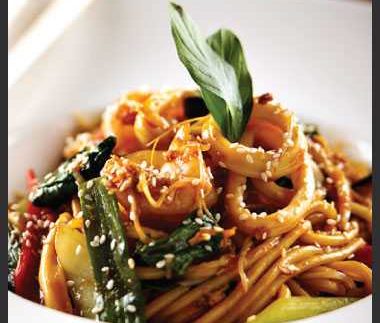 Tivoli in Heliopolis
is a surprisingly pleasant though manufactured cluster of restaurants to lounge
and dine in for a day with a soothing fountain view. We found it nicely escapist, and it's
fun to enjoy something artificial once in a while.
The
Noodle House is one of the above-mentioned chains in the Tivoli centre that caught our eye, since good
South East Asian food is hard to find in this city. We were first impressed with their quirky,
cool menu pad, which requires you to check boxes of what you'd like before handing it
the waiter.
We
ordered a small curry laksa with chicken and prawns (30LE). The soup was
amazingly flavourful with lots of prawns and slightly overcooked tofu, but with
a zingy aftertaste that had us gulping water to extinguish the flames in our
throats. The sweet and sour chicken (45LE)
was pretty standard and included a few coarsely chopped vegetables but not
enough to balance out the battered, deep-fried meat.
The Singapore noodles with chicken and prawns (55LE)
first came in the form of the Shanghai
noodles, which were suspiciously thicker than the vermicelli noodles we were
promised, and lacked prawns. However, the
order was swiftly corrected, and we enjoyed the hair-thin stir-fried noodles,
fresh meats and vegetables. It could
have used a bit more flavouring, but it was alright. Compared to Wagamama's, Cairo's other international noodle chain,
your money does go a lot further here.
Open
since 2002, this UAE chain has fifteen restaurants in the Middle East, Cyprus and Australia. The chain's theme is apparently inspired by the crowded
streets of South-East Asian cities like Hong Kong and Jakarta. We could definitely see the Asian
touches, such as the staff's uniforms, but we certainly didn't feel like we
were in any of those places either– probably because its dark wood, natural
finishes and clean contours were far too stylised, sleek and contemporary.