The Rock Café and Restaurant: Bad to the Bone in Nasr City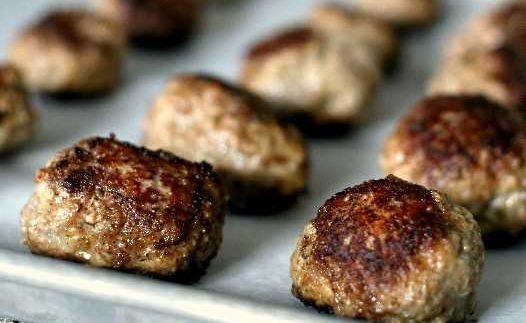 This Nasr City café-restaurant has been open for many
years; but if you asked a local about it, they couldn't tell you anything
beyond that it is located on Makram
Ebeid Street, across from the Children's Park.
That should be your first warning; the second would be the printed material at
the restaurant, where every sentence is punctuated by a bolded and italicised 'The
Rock' throughout. These warnings should be well heeded; if not, then there are
lessons to be learned.
The interior design is touted as the brainchild of Egypt's top
designers, and is reminiscent of a dilapidated Chili's or TGI Friday's. This
could actually be charming if the food was excellent; but sadly, it goes the
other way as a cautionary tale.
We started with an appetiser of Manhattan
meatballs (17LE), which arrived 35 minutes later and consisted of three frozen
koftas chopped up and smothered in Heinz barbecue sauce on a bed of limp
iceberg lettuce. This is a creation best suited for the culinary experiments of
a cash-strapped student in a dorm kitchen, not a restaurant. As hungry as we
were, we could not manage more than two morsels before pushing the plate away.
The main courses ordered were the NY strip steak with 4s sauce (55LE)
and the rock mixed seafood (78LE). On the menu, 4s sauce was described as soy, sweet,
sour and special. However, on the plate, it consisted of diced apples and hot
dog in a soy sauce reduction, poured over an entrecote steak (not a strip
steak) cooked beyond well done– even though we had specifically ordered it
medium.
The rock mix seafood was a selection of pan-fried sea bass, whole prawns
and calamari rings with Mexican rice. The waiter unnecessarily warned us that
the rice was very spicy– it wasn't spicy at all. Instead, it was cooked in a
tomato sauce, under-seasoned and accompanied by diced tricolour bell peppers. The calamari
rings and shrimp were rubbery and overcooked, and the sea bass lacked any fish
flavour at all. In fact, the dominant flavour was that of lime juice liberally
squeezed over the entire plate.
The final attempt to salvage the meal lay in the apple pie (20LE), which
arrived looking rather unappetising, punctuated by a bright orange and frost-bitten
scoop of mango ice cream. The paper thin crust was not cooked–not undercooked,
mind you– and the apple flavour was overpowered by the overuse of raw
cinnamon.