The Vegan Kitchen: Alternative Ramadan Fetar in Maadi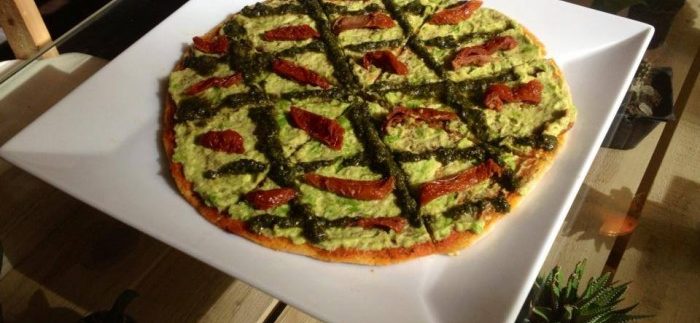 If you're a vegan in Egypt, chances are your grocery shopping and dining experience differ greatly to that of anyone else – primarily because there are very few outlets that even grasp what being a vegan is.
Now couple that with Ramadan and you end up with the niche of a niche. We were definitely sceptical, but we called in ahead to make fetar reservations at the Vegan Kitchen and hoped for the best.
Offering a set Ramadan menu, and the option to order off the regular menu, we tried both. The Ramadan Iftar Special (100LE) includes their Starter Platter, your choice of a main course, a dessert and a Ramadan Drink. We also ordered Guacamole (30LE), Raw Spring Rolls (25LE), Sweet Mushroom Salad (40LE), the Lentil and Mushroom Burger (40LE) and Eggplant Ravioli (35LE).
Even though the power went out right before fetar, the staff were on top of their game, providing candles and all the food.
The Guacamole dip, served with oat chips, was quite incredible, tasting extremely fresh with just enough zest for you to eat it with your fork after your run of chips.
The Starter Platter, featuring three small oat tarts, with mixtures of spiced eggplant, tomatoes, cucumbers and tofu labneh were similarly tasty and left our taste buds intrigued.
We were then served the huge Sweet Mushroom Salad, which includes arugula, lettuce, mushrooms, spring onions, walnuts and a deliciously sweet pomegranate-orange dressing. So far so good.
Next came the Raw Spring Rolls and Eggplant Ravioli. The spring rolls, made of assorted veggies wrapped in rice paper, unfortunately didn't fare as well as the other starters, lacking seasoning or marinade. The different elements of the Eggplant Ravioli – made with tomato basil sauce – all melded together perfectly, somehow curving that distinct sharpness of eggplant, which we found rather refreshing.
For the mains, we opted for one of the Vegan Kitchen's pizza, made with an oat crust and topped with tomato paste, tofu cheese, olives, mushrooms and onions. What was great about the pizza was the wonderful taste and smell of homemade dough. We were extremely sceptical on what would even be on a vegan pizza, but once you realise that the essence of a pizza is the tomato sauce and not the cheese, you'll find the fresh ingredients really hold it together.
The other main course, the Lentil and Mushroom Burger, divided our opinions. With buns made of lentils and strongly resembling raw katayef, and a ground mushroom and lentil patty, it was the uneven and often over-used spread of BBQ sauce that tainted the dish.
Dessert was a small, but flavour-packed, mango-cashew tart. Wonderfully creamy and tasty, this seasonal dessert stood as the highlight of the meal.
Even the most devout of carnivores has to hand it to the Vegan Kitchen; they handled themselves incredibly well especially with a power cut. No confusion on reservations, prompt, friendly service and tasty food. What more do you need?