The Yemen Restaurant: Authentic Tastes of the Region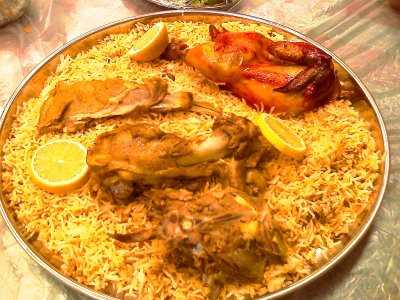 A popular place among Yemenis and the handful of expats who know about this little gem, the Yemen Restaurant in Dokki is truly an untapped secret in Cairo's chain of inexpensive yet tasty eateries.

Very informal in its style, presentation and decor, the restaurant features a single but expansive room filled with a handful of tables and virtually no interior design, save one framed poster that depicts rows of sand-colored buildings on which is printed 'Yemen Ministry of Tourism.'

Don't expect anyone working there to invite you in or ask you to sit down. Also, be sure to request that your beverages be iced; often sodas are served nearly room temperature.

Once it is clear that you are ready to eat, one of the waiters will quickly dress the table-top with large sheets of plain paper. This is followed with a cup of soup that is mostly salty yellow broth—far from a criticism, however, it's delicious— and a mixed vegetable salad.

A little word of advice: eat with your hands. Yemeni food is not meant to be eaten with silverware. It is a no-fuss, no-frills kind of place.

The food doesn't joke around, either. Yemeni cuisine is very distinct from other Middle Eastern cuisine, and thus the following should be sampled. Since it is all so reasonably priced, don't be afraid to order one of everything if dining in a large group. The rice, which can be enjoyed alone or with chicken or meat, is plain and flavored with a combination of spices and herbs that is typical to Yemeni cuisine, including turmeric, cinnamon and cardamom. You will either love it or hate it, but either way, it will leave an impression.

It is best to try the flat bread, which resembles a cross between Indian naan and Middle Eastern pita, and is used to scoop up food. Sahowqa (a mixture of chilies, tomatoes, garlic and herbs) is a traditional tomato sauce – like salsa – that goes deliciously with anything there. But beware, it is quite spicy! The grilled liver is a little greasy but packed with flavour, while the beef and vegetable stew is perfect to savor on a cold day. Their chicken is incredibly tender as well. Two can eat like royalty here for 60LE or less, and you might still have leftovers for the following day.