Top Dawgs: Gourmet Hotdogs in Mohandiseen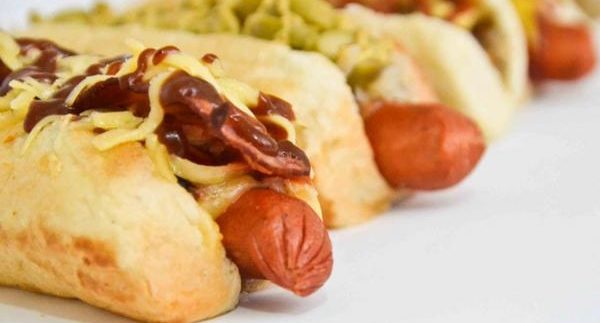 Having taken the retail entrepreneur-friendly island of Zamalek by storm, self-proclaimed gourmet hotdog vendor, Top Dawgs, has spread its wings, landed in Mohandiseen and laid an egg on Mecca Street.
Stretched along the north wall of Shooting Club, Mecca Street attracts numbers, not dissimilar to its namesake pilgrimage hub – but numbers of a different kind. The crude graffiti and nonsensical tags that desecrate the club's wall are a fitting milieu for the ominous groups of youth that waste hours of their young lives away on the hoods of cars. You might believe that Top Dawgs, then, could well be a perfect fast food peddler for these youths to dribble way their pocket money. But on a breezy Friday night, the shop was a ghost town; one that called for a brisk clearing of the throat to convene the three-strong staff – one to work the register, one to construct the 'dawgs' and one that delivers to the surrounding areas of Mohandiseen, Dokki and Agouza.
While the Zamalek branch offers eaters the choice of grilled or steamed hotdogs, this branch only offers the latter – a disappointment, yes, but a decent steamed hotdog is still a decent hotdog.
Keen to investigate the shop's sauerkraut, the Bratwurst (28LE, or 38LE combo with fries and a drink) was first to be served up. The veal sausage alone was outstanding, but the small amount of sauerkraut was lacking in flavour and crunch despite being at its stringy best. The additional brown mustard drowned out the flavours of both the sausage and the traditional topping.
Beef hotdogs make up the rest of the menu – bar the Merguez lamb option (28LE/38LE) – and the Jalapeño Cheese Dawg (22LE/32LE) is one of the busier choices. Again, the sausage itself is cooked to a soft-rubber, fast food precision and the shredded cheddar cheese and potent jalapeño slices make for a heady combination, further enhanced by sliced onions and ketchup.
Top Dawgs' fries are superior to the Cairo standard; crunchy, thick and clean of too much oil – though if purchased alone will set you back a rather extortionate 9LE. The biggest issue, however, is the bread. Top Dawgs' menu offers a choice of baguette and soft bread – an option not afforded at the Mohandiseen branch. But the issue is that the soft bread is huge – overwhelming for even the large sausages. The additives of each choice ensure that you're never left biting into bread alone, but you'd understandably feel short-changed if there isn't a wholesome chunk of sausage with each bite.
Though the staff were pleasant, the 30 minute wait for what is essentially a process of steaming semi-cooked meat and adding already prepped ingredients was a little much. It takes the pleasure out of that essential fast food expediency; a drawback that might be ignored if the food were, as they claim, gourmet.