Top Dawgs: The Hottest Dogs are in Zamalek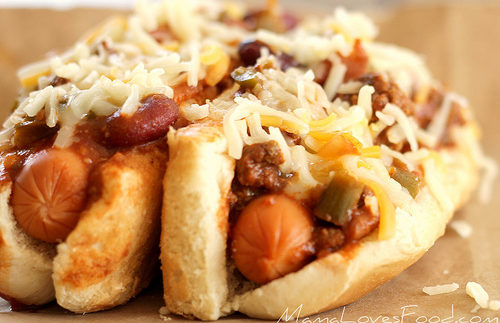 Having tempted us for weeks on Facebook and Twitter with
pictures of hot dogs, quizzes that test our hot dog knowledge and just endlessly
toying with our appetites; the long awaited, much anticipated Top Dawgs has
finally opened its doors to the public.
Located in the high traffic area of Ibn Nabih Street in
Zamalek, in between Coffee Bean & Tea Leaf and Crumbs, Top Dawgs is the
first gourmet hot dog spot in Cairo. A considerably small venue, the shop is
easy to find with its glowing red sign and cool grey interior. Made up of
nothing more than an ordering counter and some stand-while-you-eat surfaces,
Top Dawgs is probably the most exciting thing this city has seen in a while.
Apart from being called 'dawgs', the sausages are also
unique in their recipe. Created by the Top Dawgs team, the sausages were
specially designed for this venture and would not be found for sale anywhere
else. Their bread is custom made at Il Mulino bakery, it is 100% organic and preservative free; it is so fresh that it
can only be used on the day it is made.
The variety of hot dog choices is enticing and
mouth-watering. Not the ones to be unoriginal, choices include things like the
Merquez Dawg, which is lamb sausage with harissa, Dijon mustard and caramalised
onions (28LE); and the Bratwurst Dawg, which is veal sausage with sauerkraut
and French's yellow mustard. Other
varieties include a NYC Dawg, Chicago Dawg and BBQ Bacon Dawg. You are also
given the option between a baguette and soft bread for your sandwich.
We finally settled on trying the Original Top Dawg (23LE)
with added melted cheddar cheese (2.50LE), the Chilli Cheese Dawg (28LE) and the
Blue Cheese Dawg (29LE); all large in size. Served in a basket, the hot dogs are as
visually appealing as their taste turned out to be.
The original hot dog comes with ketchup, mustard, sweet
relish and onions; the added cheese was definitely a plus. Perfectly simple and
greatly delicious, the ingredients together were an absolute delight. The
chilli dog was equally yummy; the rich chilli flavour mixed with a hint of jalapeno
spice and covered in melted cheese – just be sure to ask your waiter to melt
your cheese well. The blue cheese hot dog seemed like an alternative approach
to the classic sausage in a bun but proved to be a very good combination.
Kept basic with just the cheese and fresh shredded lettuce, it is recommended
to have it in a baguette; it makes a good, and lighter, lunch option.
The French fries we got on the side were just as enjoyable. Kept
with some of their peel on, they were crunchy on the outside and perfectly soft
on the inside – these were some of the best fries we've had in the city and
although we were full, they were diligently eaten all up.
If you prefer to design your own 'dawg' the menu offers a
selection of toppings. The basic ketchup, mustard, mayonnaise and BBQ sauce are
added free, but as you move into the more serious toppings it starts to cost
you. The first level has things such as sour cream, tobasco, Mexican hot peppers and
sauerkraut for 2.5LE a topping; the next level is for 4.5LE a topping and has
crispy beef bacon, horseradish and blue cheese as choices.
The truth is there is nothing we didn't like about Top
Dawgs; the sausages are flavoursome, the bread is organic, the toppings are generous
and creative, and the fries are as the perfect French fry should be. Could we
possibly ask for more?