Torii Sushi: Bright Lights, Little Sushi
Cairo Marriott Hotel & Omar El Khayyam Casino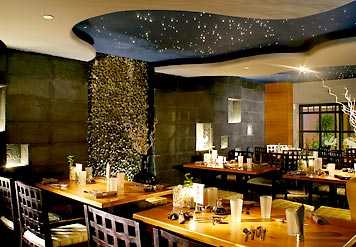 The Cairo Marriott
Hotel in Zamalek is housed in a former palace, and some of its interiors are
positively palatial. However, its
restaurants can be hit and miss, so we ventured out to its sushi restaurant Torii
not really knowing what to expect.
There's no
denying the beauty of the dimly-lit restaurant, with its twinkling ceiling,
hardwood tables and stalks of bamboo. From the elegant constellation lights
that twinkle like stars in the blue-wave ceiling, to the rock wall fountain and
the Japanese zodiac embedded in glass and backlit in the black brick; it's a really
a lovely and almost glimmering space that will leave you feeling like you're
dining under the stars by candlelight.
The restaurant
offers an all-you-can-eat sushi and sashimi menu every Saturday, Monday and
Wednesday from noon till midnight for 180LE per person. The price includes a plate of thirty pieces
of sushi and sashimi to start, with as many refills as you desire. What we
weren't expecting was the tiny, but tasty glass noodle salad with seaweed and
onion to start, followed by a delicately flavoured miso soup with small cubes
of tofu; a great way to begin the meal. Curiously,
the set menu does not include dessert.
The sushi platters came on large square plates that looked appetising,
but had an uncomfortable odour. Fresh fish, or any meat for that matter,
shouldn't smell at all, and we were both disappointed and afraid to risk this
dining experience. However, taste didn't support smell; and all the fresh cuts of
sashimi tasted fine. So, our goal for the night became deducing the smell's
culprit.
We think it was the four maki pieces with an unidentifiable
chopped fish (tuna? salmon?) in a strange orange sauce, which could have been
spicy but was also cheesy and sour. Two larger rolls stuffed with imitation
crab and eggs looked pretty but tasted bland. However, two medium rolls were
the tasty highlights, with one wrapped in konafa and the other in crispy rice. The
general sushi pattern seemed to include some variation of imitation crab and
cream cheese throughout the meal: even two sets of rolls surrounded with orange
and green caviar featured cream cheese and imitation crab.
Five pieces of Nigiri
sushi included salmon, tuna, white fish, shrimp and calamari, all of which
tasted subtle and fresh. There were also pieces of octopus and imitation crab–
which we'd had enough of by this point. There was an impressively solid amount
of sashimi as well, which tasted fresh and put our bellies at ease with the
smell.
Torii shines in
its interior's elegance, but not necessarily in the quality of its food, which
is a real shame. And at nearly 500LE
including tax and service for all-you-can-eat for two with water, the deal may not be as sweet as it seems.