Tsunami Sushi: Intimate Sushi Restaurant in Zamalek
159, 26th of July Street (Behind Diwan)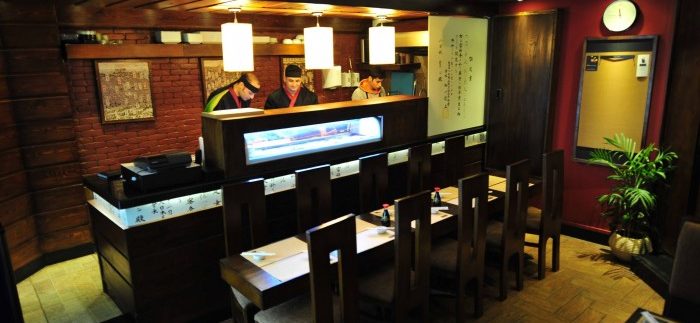 Aside from being the regular go-to dining zone in Cairo, Zamalek is gaining a reputation as the sushi hub of the city. One of the newest eateries to open in the neighbourhood is Tsunami Sushi, located just behind Diwan on 26th of July Street.
The exterior and entrance beckons passersby, giving the impression of being far grander than it actually is. The decor uses earthy brown and red tones, alongside exotic wall-art and bamboo shoots. The restaurant is small but surprisingly spacious, with no more than three or four tables, adding to the air of exclusivity. Due to its compact size, most of the seating overlooks the sushi bar where traditionally-dressed chefs nimbly prepare the sushi rolls.
Once we were seated, a polite waiter extended courteous greetings and a delicious, mysterious, complimentary welcome drink. He then proceeded to guide us through the menu and recommended the Tempura Mori (50LE) platter to start, followed by the expertly prepared, hot dynamite shrimp roll (50LE) and Philadelphia rolls (55LE).
After a reasonable wait, the Tempura Mori platter arrived; a small assortment of shrimp slices, calamari and batter fried vegetables – egg plants, onions, tomatoes and courgette – which all tasted wonderfully fresh with their dipping sauce.
Our mains arrived swiftly afterwards. Made with cream cheese, avocado, shrimp tempura and cucumbers, all wrapped in slices of smoked salmon, the dynamite shrimp was a scrumptious combination, topped with a flavourful, special shrimp sauce. Equally as enjoyable, the Philadelphia rolls (55LE) were also fantastically flavourful. Both rolls were sliced into eight, averagely sized bites, beautifully presented in their sticky, white rice shells alongside soy sauce and a mound of fresh ginger.
Tsunami's dessert menu is – suitably – small, and offers two simple options; deep fried ice cream (20LE) or Swiss roll (25LE). As with many sushi restaurants, however, it's rare that, with such precise execution of their sushi options, you'll have space to fit anything other than more sushi into your stomach.
The real test of Tsunami will be whether the restaurant can maintain its standards, or maybe even improve. On paper, sushi, is one of the few cuisines that relies more on following instructions than a chef's instincts, which is why, over a long period, standards can drop.
As it stands, Tsunami offers well-made sushi in a comfortable, intimate setting, complete with impeccable service for a pleasant, if hackneyed, dining experience amidst what is becoming a saturated market.