Tutti Matti: New Italian Restaurant in Maadi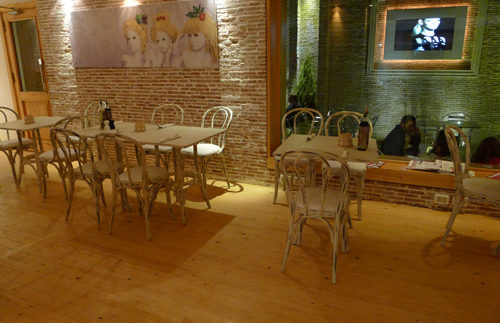 The newest addition to Road 9 in Maadi comes in the form of
an Italian restaurant and café. Located on the increasingly popular stretch on the usually less-explored territories beyond McDonald's, Tutti Matti seems to
offer more than it delivers.
Having been under the impression that it was a new Italian
'restaurant' we decided to go for dinner. At first glance it became obvious
that we were mistaken. The, more appropriately called, café takes up a
decently-sized space and has a larger outdoor space than indoor one. Though the interior is aesthetically pleasing – fresh and modern with whitewashed wood
and brick-wall detailing exuding characteristics that suggest 'quality' and
'hipness' – it is ultimately just another cafe.
The indoor area is simple with fair wood, lightweight tables
and chairs, a bar/service area and a self-serve fridge
with sandwiches and drinks. We preferred to sit outside because it was quite
noisy and hectic otherwise. The outside area, which is larger, was considerably
pleasant. A large arched doorway, slate floors and seating among trees; it's
almost like you've escaped the dust and havoc of Cairo. The menus match the
overall style, looking like a blackboard framed in wood. The cuisine while
defined as 'Italian', includes pretty much everything.
From the choices of salads, soups, sandwiches, pizza, pasta,
meat and fish dishes, we settled on an antipasti to share for a starter, a
pizza and a sandwich for main courses. The antipasti (55LE) were enjoyable
enough with cheese sticks, Parmesan gratings and mozzarella with a side of
tomatoes. There was also bresaola that tasted like smoked beef. No severe
complaints here, apart from the fact that they served it with the main courses.
We ordered the Sicilian pizza (41LE) that comes with an olive tapenade,
mozzarella and dry herbs. While we ate most of it, there was no olive tapenade,
only olives and the specifically added mozzarella was nonexistent; it was good
but nothing more exciting than a pizza you'd order by a hotel pool. The bistecca
di manzo sandwich (45LE) was quite unimpressive. It came on focaccia bread that
was dry and crumbly, yet soggy at the same time. The meat tasted stale and the
promised mustard was nowhere to be found. The fresh tangerine juice (18LE),
perfectly tangy, was a hit – unlike the bland iced tea (14LE). Looking forward
to the dessert portion of the meal, we were disappointed to hear it was still
not available.
Tutti Matti is a relatively expensive restaurant/café, with
pizzas for 40LE-50LE, starters ranging the same prices and meat dishes going up
to 120LE. At these prices, one would expect outstanding dishes and original
recipes. The last time we checked, Italian restaurants don't usually serve
hamburgers and crème brûlée, and for marketing itself as such, we felt somewhat
underwhelmed. The interior may deceive one into thinking that this is the
ultimate in dining experience, but the food flattered to deceive.We can only hope that since it's been open for just a little over a week, there's still time to change our minds.