Upper Deck: Top-Notch Fetar at Four Seasons Nile Plaza
Four Seasons Nile Plaza, Corniche
From and digging into some homemade food at a family gathering, to chilling on a couch and watching Ramadan TV shows while devouring some Om Ali, it can be difficult to leave the cosy ambiance of a home fetar during Ramadan. Four Seasons Nile Plaza's Upper Deck, however, has everything you need for a great Ramadan experience.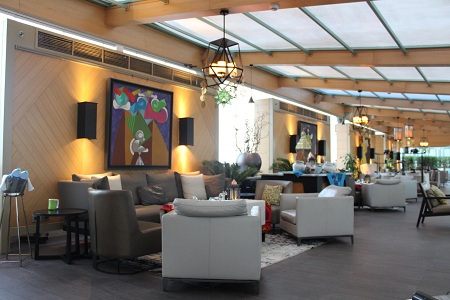 Divided into eight lounges, Upper Deck's design perfectly captures a homely atmosphere, including a large flat screen television with a sound system for each lounge, to make sure you don't miss a second of Nelly Kareem's daily dose of depression. Each lounge has a unique touch added with large framed paintings and the different furniture setups. The wooden walls and studs holding the fabric ceiling, and the view of the rooftop pool from the panoramic window served to boost the overall cosiness to the max.
The spirit of Ramadan is present in the colourful fabrics on the tables, the super cute lanterns and of course the food on their fetar Set Menu (330LE per person) which consists of Ramadan drinks, soup of your choice, selection of hot and cold mezza, a main course served with daily chef tajines and Oriental desserts.
We started our fetar with Karkade (hibiscus) and Sobia (coconut and milk) with dates, before our soups arrived. The lentil soup had a fantastic thick consistency and spot-on flavours, though the tomato soup was a bit watery, despite the outstanding acidic tomato flavour.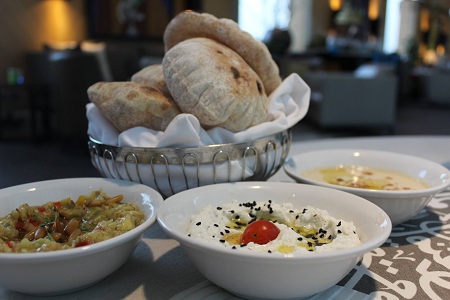 Served with a basket of puffy bread, among the cold mezza was a mixed bag; the Labneh was bland, but the baba ghanouj was really tasty with the addition pine nuts adding an exquisite crunch. What really stole the show, however, was the super light moussaka; well-cooked cubes of eggplant mixed with a remarkable tomato sauce which wasn't as garlicky as the usual and topped with chickpeas. As for the hot mezza, we got soft and fluffy spinach fatayer that we're still dreaming about; scrumptious cheese sambousak with chopped mint that took it to a whole new level; perfectly seasoned minced beef sambousak and a kobeba that deserved a standing ovation for the spot on amount of stuffing and its crispy exterior.
Moving onto the day's chef specials, the gourmet Egyptian Fattah was far from disappointing. Served in very cute red pots and lying on a bed of bread and rice, the beef cubes were tender and coated with a garlicky tomato sauce. Unfortunately, the lasagne was very dry, the minced beef lacked flavours and didn't really fit into the rest of the menu. As for the seafood tajine, it was a rich in a saffron sauce that was bursting with flavours, while the seafood was noticeably fresh.
Our first main was the mixed grill which consists of kofta, lamb chop, grilled chicken and grilled beef. Everything was perfectly seasoned; the kofta was juicy and had a spot-on moist texture, the grilled chicken was incredibly tender and the perfectly cooked lamb chop made our day. Unfortunately, however, the grilled beef was overcooked, which was a shame because it otherwise tasted great.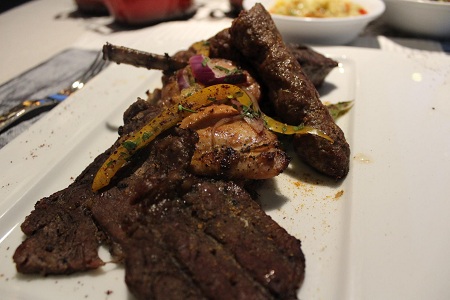 Compared to the mixed grill, the portion of the marinated grilled sea bass was very little but hey, quality over quantity. Served with fluffy and light rice, the sea bass had a melt-in-your-mouth texture and the sautéed vegetables were a beautiful touch. But overall, we felt like the sea bass needed more complex flavours or maybe even a squeeze of lemon.
We finished our meal with Om Ali because, well, you can't go wrong with Om Ali. Boasting a perfectly golden brown top, a soft and mushy interior with a generous amount of pistachio– even though we were missing some coconut and raisins – just the right amount of milk, and a spot-on amount of sugar, this could be the best Om Ali we've ever had – Ali should be proud of his mother.
All in all, there was little to complain about at our visit to Upper Deck. The service was amazing, the food was great, and the ambiance is like a refresh button to your mood; but everything comes with a price.