Vendome: Flawless French Fine Dining in Cairo
Sofitel El Gezirah Cairo Hotel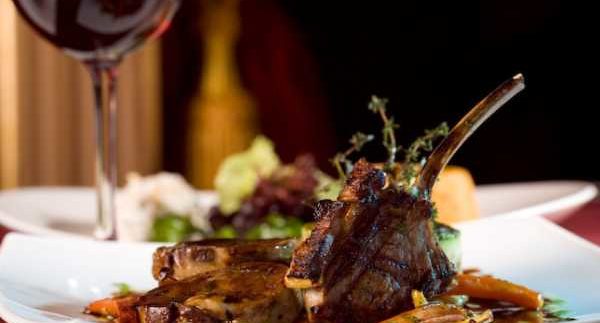 There is something so very splendid about the
disregard that a French chef has for your arteries. The decadent cuts of meat, rich
sauces and delectable pastries of this culinary tradition linger long in our
minds– as they do on our waistlines– which is why we often reserve such dining
for a special occasion. Sofitel El Gezirah's French fine dining restaurant
Vendome is nothing short of special.
Everything about Vendome is elegant. The large dining
room is a dimly lit space with elegantly appointed tables, a steely blue, tented
ceiling, and dramatic window treatments framing the stunning Nile
view. The service is on point in every aspect– from the small table-side stand
provided for handbags to the anticipation of each request.
After water, wine and a selection of freshly baked
bread were presented, an amuse bouche– a gift from the chef– arrived to whet
our palates. The small portion of salmon salad was bright with diced sweet
peppers and hints of citrus; a simple yet delicious appetiser. The first course
of le granite fraicheur (80LE) was served playfully in a large martini
glass. Freshly chopped tomatoes,
cucumbers, prawns, and sea scallops were mixed together and topped with spicy tomato
granite, which lightly chilled and seasoned the salad exquisitely. The flavours
were clean and simple, and the scallops lived up to their reputation as the
butter of the sea.
When the main courses arrived to the table, the only
deviation in an evening of impeccably professional service was the excitement
in our server's eyes as he lifted the covers off our plates and awaited our
reactions. React we did; for the food
was stunning. The rack of veal (160LE) had been roasted flawlessly on top of a
rich, savoury sauce of onion confit and accompanied by a beautiful potato
gratin. The golden crust of the roasted meat encased the veal's juices
exceptionally well. Even at the requested well-done temperature, the veal surrendered
to a butter knife.
The roasted chicken
ballottine (145LE) was served with morel mushroom risotto and ruccula, and it had
equal depth of flavour. The chicken had
a hint of sweet smokiness that found a pleasant pairing with the umami sauce. The
delicately flavoured risotto matched the dish well, although it had gone
slightly sticky.
Chocolate fondant with raspberry sauce and pear sorbet
(50LE) proved to be an excellent ending to our luscious meal. The cake was
moist, and the molten filling oozed into the centre of the plate swirling with
the berry coulis. Not an avid fan of pears, this reviewer has recently had a
change of heart due to the incredible texture and freshness of Vendome's
sorbet, which was the sweet to our dream come true of a dinner.