Villa Belle Époque: Quiet, Elegant Gourmet Dining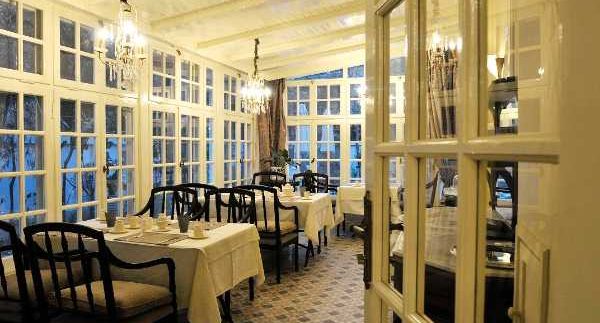 Since its quiet opening in 2009, Maadi's elegant
boutique hotel Villa Belle Époque has been reviewed by some of the world's top
newspapers. Despite minimal local
publicity, the simple, white villa has garnered a reputation through word of mouth in Cairo for its excellent
cuisine and luxurious decor.
Located on Road 13 at the back of the Maadi
Police Station, the hotel is quite small and simple, with white walls, a
cool conservatory-turned-dining space and a lush garden filled with
sweet-smelling trees. The hotel feels
like an elegant summer house that you've been invited into: faded tiles,
white chandeliers and beautifully embroidered blue curtains add to the
restaurant's understated elegance. The decor creates an ambiance of 1940s Egypt,
with minor graceful touches such as white roses in a vase in a corner and natural
light streaming through the conservatory's large windows.
Our lunch party enjoyed a quiet and
undisturbed meal, our silverware was genuine and possibly antique, and
the waiters left us in peace except to whisk away our plates and place the
appropriate cutlery.
The restaurant's specialty is gourmet with
a hint of local cuisine, from the shrimp falafel to the tehina coulis. Appetisers range between 70LE and 100LE, and
main courses start at around 90LE; but you're getting your money's worth in an
exciting yet delicate sensory experience.
After our complimentary (and rather
confusing) amuse-bouche of a singular vegetarian maki roll with teriyaki sauce,
we were quietly presented with a basket of hot and delightfully fresh bread,
including toast and whole-wheat buns with melted cheese that finished all too
quickly with the Elle& Vire butter served in an elegant butter dish.
Our appetiser of buffalo mozzarella (70LE)
was artfully placed over a boat-shaped tomato arrangement, and piled on top of
shredded white and red cabbage with a drizzle of caper purée. The dish was
delicately flavoured and fresh, though it could have had stronger
seasoning. The watercress soup with blue
cheese (40LE) was watery yet absolutely fresh; the shreds of watercress
produced a delicious aroma and taste. The blue cheese added an interesting
kick to the soup, though this reviewer would have preferred the chunks to be
blended into the soup.
The main course of roasted sea bass (110LE)
was quaintly arranged over a bed of puréed sweet and sour potatoes, which
contrasted sharply with the ruccola, tomatoes and kalamata olives. Tiny
portions of goat's cheese garnished the dish and worked fantastically with the
wonderfully complex blend of flavours.
The chicken breasts and goats cheese
wrapped in vine leaves (110LE) was less exciting, though nonetheless
satisfying. Drizzled in a red pepper
coulis and caper purée, the bite-sized chicken portions were just slightly too
dry, while the vine leaves didn't necessarily pair well with the purée.
For dessert, our cheesecake (40LE) was
quite appetising in a biscuit-sized portion with generous berry jam and a
chocolate flake on top, but sadly the cheese filling had not been defrosted
properly and had an icy crunch to it.
Despite its few minor setbacks, the
restaurant's elegant and intimate atmosphere, delicious cuisine and prompt
service make it a highly memorable and enjoyable dining experience.