Nile City Towers, 1st Floor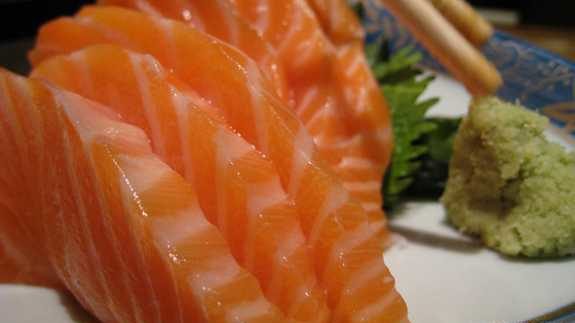 Although this sushi restaurant has been open in Citystars
mall for several years now, it opened its second branch in Cairo on the Nile
City Towers first floor this year. Still very much a mall eatery, Wabi Sabi
boasts an eclectic mix of food court cuisine and Asian flare with an
enthusiastic dash of contemporary art-chic
The chain calls itself 'sushi couture' and offers a menu
strictly of Japanese seafood fare. The restaurant's decor is a confusing blend
of modern art, nature installations with a copious mix of sheet metal walls,
dark wood lattice and carved wooden table pieces.
Formerly occupied by coffee chain Cilantro, the dining space
was clearly never designed to house a cosy, casual-chic Far Eastern restaurant;
and the result is slightly unsettling. Four or five tables are placed in the
open mall hallway, equipped with high-back chairs on one side and backless
benches on another. Tables are each decorated with three wooden
Ukrainian-patterned eggs that nest in oblong carved trays.
The interior of the restaurant is small, and made even
smaller by the fact that a larger-than-life wooden tree made of pieces of
plywood is planted in the restaurant's centre.
The tree is flanked by a warped wall of silver sheet metal on one side,
and a plaque on the other, where silver foil is folded into shapes of birds; adding
to the place crowded, mixed styles.
Service here is prompt and friendly, and we had not problem
attracting the waiter's attention to request more rice or inquire whether the
kitchen served seaweed salad– sadly, they don't. We were delighted by the
fragrant and pungent miso soup's broth, its firm silken tofu and plentiful
seaweed strands.
The menu is extensive, advertising everything including
nigiri, sashimi and ura maki, with several house variations on the classic such
as the naked maki, which excludes a nori skin; or the sashimi special that sears
the fish instead of serving raw slices; in addition to an elaborate list of
house special rolls.
Our tuna sashimi (50LE for eight pieces) tasted delightfully
fresh, although the cuts were clumsy. Instead of delicate slices, we were
served uneven slabs that were difficult to separate into bites. The shrimp black
sesame roll (42LE) was a lightly fried, crispy compilation that had us quite
pleased. We sampled the pan-seared salmon with black sesame (59LE) from the
sashimi special section. The slices of salmon meat arrived ever-so-lightly
touched in the pan on the surface and sprinkled with black sesame seeds. The
dish left us bemused: while the salmon was fresh and tasty, we had anticipated
a deeper braze in the pan, and would have appreciated a golden edge or a touch
of crispiness to make the dish more exciting.
Portions are not small, and the prices are decidedly
mid-range for sushi restaurants in Cairo. We would return for a quick, informal
bite of some fresh seafood, and perhaps for another look at the decor just for
fun.