Wok and Walk: Chinese Takeout in Maadi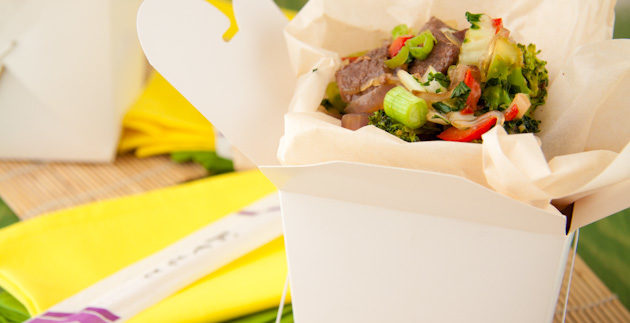 The classic Chinese food takeout concept has been missing from Cairo's otherwise eclectic dining scene for a very long time. Chinese food is usually much cheaper in other parts of the world and is, more often than not, tailored towards takeout and not a dining experience as such.
In the ever welcoming foodie neighbourhood of Maadi, the introduction of a Chinese takeout restaurant has been met with great enthusiasm. Having opened its doors towards the end of the summer in 2013, Wok and Walk has since flourished and found a comfortable place among the many other eateries on Road 9.
The restaurant itself has a comforting design with an open kitchen so you can see the chefs hard at work. The bright blue exterior is contrasted against red brick walls on the inside, and there are small benches for you to wait for your order – or eat there if you please.
But Wok and Walk labels itself as a 'Chinese Takeaway', and, as such, we decided to go back and order it from home to truly test the concept they're going for.
The menu splits itself into three sections. First, you pick one of three kinds of noodles, or one of three kinds of rice. Next, you can choose whether you want beef, chicken, calamari, shrimp or mixed seafood. You can then add one of nine sauces, with the option of extra sauce. There's also a set menu that comes with 2 appetisers.
So, we decided to build ourselves some classics. First, Vegetable Fried Rice (14LE) with Beef (22.95LE) and Oyster Sauce (8LE) bringing the total to a decent (44.95LE). For the other dish, we opted for Egg Noodles (14LE), Chicken Breast (22.95LE) and Teriyaki Sauce (8LE) bringing the total to the same (44.95LE). From the appetisers, we ordered Vegetable Spring Rolls.
The order arrived in a fair thirty minutes, steaming hot and packaged nicely into the famous oyster pail boxes – the Chinese takeout boxes you've seen in every movie ever.
The Spring Rolls, accompanied by sweet and sour sauce, was fried to a nice crisp, but sadly had little filling.
The first main course, while generous in portion, sadly left most of the meat and oyster sauce at the very top, leaving the bottom layer of rice dry and lacking flavour. The beef itself was of decent quality, but a little too chewy at times. The oyster sauce wasn't as strong in flavour as we would expect and, as previously mentioned, failed to infuse its flavour with at least half the portion of rice. Overall, it was just above average, but not by much.
Similarly, the second main course had the same large portion, but the flavour was still disappointing. The Teriyaki wasn't as tangy as hoped for and the chicken was bland tasting. The noodles were definitely better moistened by the nature of the dish itself but it's a shame that moisture didn't come from the Teriyaki sauce.
Wok and Walk doesn't provide a top-of-the-line Chinese cuisine, but then neither does any Chinese takeout restaurant. For what it is, a filling – moderately priced lunch or dinner – Wok and Walk is probably worth a try or two for the novelty of creating your own dish. Will you get hooked? Unlikely.