Yum: Sweet & Savoury Pies in Maadi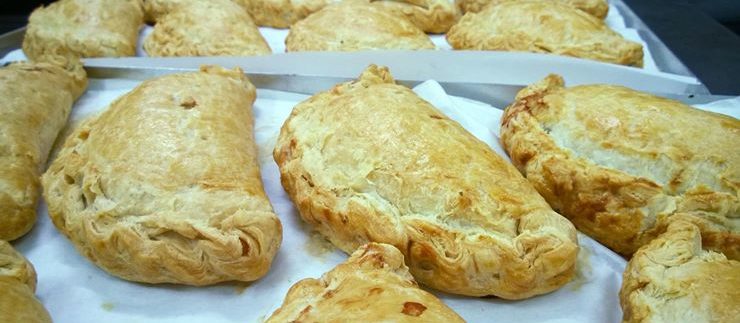 When on the hunt for something new and quirky to eat, Maadi is your safest bet; the area is home to several international cuisines that are quite uncommon amongst restaurants in Egypt, because of a strong foodie community.
Of the most recent of these cater-to-foodie venues is Yum; a small little restaurant right behind Nola on Road 9, that bakes both savoury and sweet pies, pastries and rolls. We saw a picture of the beef pie floating around the internet and, quite frankly, couldn't resist.
So we dropped by and were greeted by one of the partners; a very friendly lady who had earlier taken our order over the phone. Our orders were hot and ready when we arrived thirty minutes after our call.
We had opted for a Chilli Beef and Bean Pie (25LE), a Pepper Steak Pie (25LE), Spinach and Feta Roll (20LE) and an Apple Pie (28LE).
The pies certainly looked fabulous, boasting a crisp golden layer on the outside but maintaining a certain chewable quality. The Chili Beef and Bean filling was steaming hot and tasty, but quite mild in terms of spiciness, which could either be a good or bad thing depending on your preference.
The Pepper Steak had a much stronger kick, the meat was tender and melted in your mouth, while the sauce was every bit as peppery as you would want it to be. While both the pies looked relatively small, they are surprisingly filling yet light on the stomach.
The Spinach and Feta Roll was quite delicious, with hot cheesy spinach wrapped in a very crumbly and light pastry, we only wish we ordered more of it.
Thoroughly satisfied at this point, we took a slice out of the Apple Pie. While tasty and featuring a cinnamon and a little lemon zing, we expected the inside to be warmer and the apples to have been cooked longer.
All in all, a pretty refreshing and, indeed, 'yummy' experience. Yum don't deliver yet but are planning to in the near future, but they do sell pre-cooked frozen pies ready to go in the oven for the many people without enough time to work up a meal in the kitchen.