Zeit & Zaatar: Modest Syrian Restaurant in Maadi
19 Misr-Helwan Agricultural Rd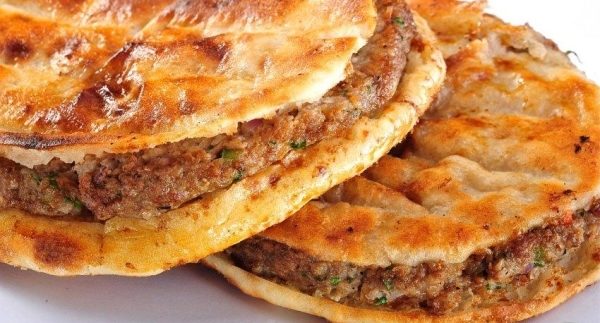 Syrian cuisine continues to gain popularity among restaurants in Cairo, with more eateries around the capital specialising in Leavntine food. Located on the Cairo-Helwan Agricultural Rroad, near the Osman towers, Zeit & Zaatar – as the name suggests – serves up authentic Syrian food.
Right next to the venue's entrance are the shawerma skillets and a large oven for the baking of manakeesh and pizza. Seating is limited to a few tables on the sidewalk, and the shop relies largely on take-away orders. Aside from shawerma and fatah, the menu also offers chicken rolls, boneless chicken, shish tawook and grilled selections. Shrimp and rice kabsa, pizzas, pastas, soup and traditional Levantine appetizers are also available.
Their signature main dish is the Alexandrian hawawshi with vegetables (19LE), which has proven so popular that it can also be ordered as an appetizer or a side – the same applies to the skillfully prepared spinach and halloumi manoucheh (15LE).
We were surprised to learn that their pizza chef previously worked in the kitchen of the Four Seasons hotel and at the recommendation of the waiter, we felt compelled to try it. Alongside our large, beef shawerma pizza (40LE), we ordered a taboula salad (10LE) to start and half a grilled chicken, rice, fries, bouri bread and taameya (40LE).
The salad was generously portioned and tasted noticeabely fresh, whilst the boneless chicken was mouthwateringly tender and impressively marinated. Also notable, the side of fries happened to be some of the best we've tasted at a local fast-food restaurant in Cairo.
We found the size of the pizza to be a major drawback as, although we had ordered a large, it was disappointingly small. That said, what it lacked in size was made up for by its delicious flavour; it was generously coated with cheese, juicy shawerma strips and plenty of fresh, flavourful vegetables.
Though the restaurant has a typical appearance of a slapdash, local shawerma joint, the staff are polite, their service is efficient and, pizza size aside, our meal at Zeit & Zaatar was thoroughly satisfying.