Zeitouna Lebanese Bistro: Expert Cooking Classes in Lebanese Cuisine
Nile City Towers, Corniche El Nil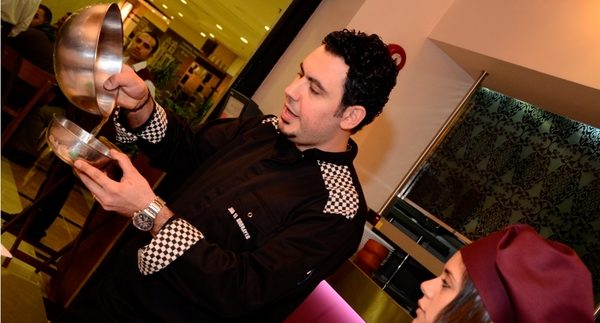 It's not every day that the Cairo 360 team is
invited into a restaurant's kitchen, and being the food experts we like to
think we are, we jumped at the opportunity when Zeitouna Lebanese Bistro
invited us along with nine other culinary fans to try our hand at recreating
their signature dishes.
Located on the first floor of Nile City Towers,
Zeitouna Lebanese Bistro is a recently opened dining venue that promises
authentic Lebanese cuisine, with many of the ingredients fresh and imported
straight from Beirut. This snug eatery is now set to offer cooking classes where resident Chef Jad El Ghorayeb will teach ten students how to
make appetisers, dips and other bites off the menu.
Getting to watch a chef at work is fun, but
helping him out and then eating the products of your class is an undeniably
entertaining experience. You also get to pick up useful tips along the way,
such as what cutting boards to use for which food items, what type of salt to
mix with which sauce, and how to chop parsley for your taboulah.
All of the recipes chosen by Jad during our
class were easy to make in less than fifteen minutes, including the baba
ghanough, taboulah, arayes kafta and chicken liver. During the two-hour
session, the chef instructed and demonstrated how to cut, chop, spice, stuff
and fry the delectable dishes, as students took notes on the Zeitouna Bistro
notebooks handed out during the class.
Although the recipes are simple on paper, Jad makes
a point of reminding us culinary amateurs that the x-factor that we taste in
Zeitouna's delicious dishes comes from tender love and care. His approach to
making food is full of enjoyment, creativity and freedom. You can follow a
recipe to the tee, but the freedom that comes with truly enjoying your time in
the kitchen is something you can't teach. This is no truer than with Lebanese
food, because it's all about flavours and textures rather than getting bogged
down in measurements and timers.
Nevertheless, there's a lot to take in, but if
you can't keep up with the instructions; don't worry, a PDF of the recipes will
be sent to your email after the class as a reminder of everything you've
learned. Whether you're a novice or fancy yourself as a bit of a culinary whiz,
there's something for everyone. Plus, you get to where a nifty purple chef's
hat.
Based on the great feedback from the inaugural
class and the buzz created by the event, Zeitouna Lebanese Bistro plans to
continue these cooking classes by hosting one every few months and offering new
recipes and cooking tips. Want to join the cooking class? It's easy, just click
on the Facebook page or add your name to the attendees list once an event is
announced. Zeitouna Lebanese Bistro will randomly select the names of ten lucky
contestants to participate in the next session. You'll be whipping up the
perfect humous or sassiest taboulah in no time. Good Luck!