Zooba: Adding Colour & Character to Citystars
Mosaic Dining Zone, Citystars, Omar Ibn Khattab St.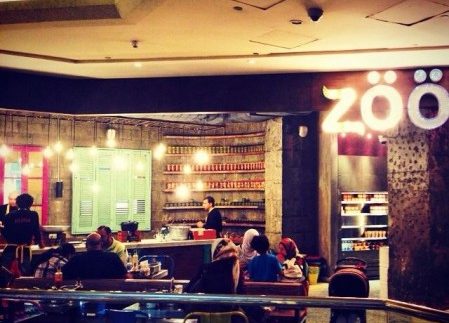 Despite the increasing number of foreign cuisines that can be found across the Cairo dining scene, there's just something about the variety of strong, quite eccentric , flavours of Egyptian food that trumps all. Sometimes, all one wants is to please one's taste buds with some classics and Zooba is the perfect place for serving up exactly what we have been craving.
The third branch of the popular chain is located in the Mosaic food court in City Stars and is easy to spot from a distance, with its big, colourful, bright sign and overall unique appearance. Designed much like a contemporary street food eatery, the restaurant has no doors or walls separating it from the walkway. Adequately-sized, with quite a few tables to offer, worrying about not finding a seat there is rather unnecessary.
We took our seats and immediately made our way to the refreshments fridge to quench our thirst, opting for a bottle of Lemon Mint juice (13LE), which was quite zesty and refreshing. With a chalk board having all the dishes offered scribbled on it hanging over the kitchen and an open fridge showcasing a handful of dips, salads, desserts and drinks, the place feels quite homey and cosy like its other branches, despite its mall location. A stand holding multi-coloured loaves of Baladi Bread definitely caught our eye and added an exquisite touch to the already interesting place.
We made our way back to our table and our waiter immediately came by to take our order. For those that may not be familiar with Zooba, the menu offers all the Egyptian street food items you can think of; from Foul and Taamia to Koshari (and its healthy alternative) to Hawashi, sausages and liver options. From the array of dips, we opted for Beetroot Besara (21LLE), alongside small portions of Wholegrain Koshari (15.50LE) and Classic Koshari (13LE), Hawashi (18 LE) and a small plate of Spiced Sausages (21LE).
Our food literally took just a few minutes to arrive, much to our delight, and we began to dig in. The Beetroot Besara came in a moderately sized container, accompanied by a Baladi breadbasket and tasted quite delicious and dense. The Classic Koshari left us quite disappointed as it was, at best, average-tasting and lacked any oomph. Made with brown pasta and rice, the Wholegrain Koshari, was surprisingly delicious.
The Hawashi was the biggest let down of all the dishes; it was oily and small in size, unlike the the Spiced Sausages which came in an adequate portion and were bursting with flavour.
Zooba has become a staple for those that don't dare to delve into the more traditional purveyors of Egyptian street food, offering quick bites in a lovely setting. The whole feel of the place, with its funky design and choice of background music (we heard a few songs by indie Arab bands), helped set the mood and the dishes, with a few exceptions, tasted as delightful as they sounded.