Zooba: Tame Ramadan Specials at Zamalek Favourite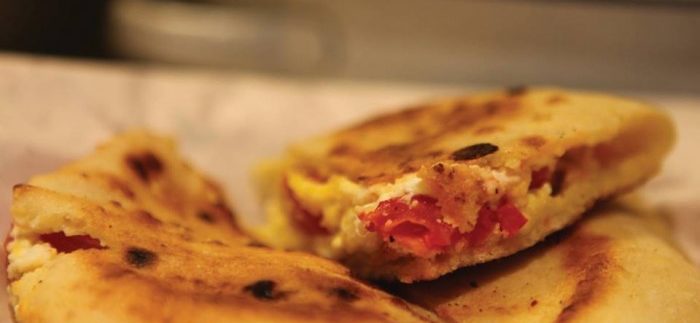 Ramadan in Cairo has always revolved around the same customs; big family gatherings, late-night, post-sohour shisha, et al.
When it comes to sohour, foul, eggs, and white cheese are an instinctive go-to – easy, filling, no nonsense.
Despite ongoing objections at a perceived extortion with food that can be bought for a fraction of the price at any local eatery, Zooba has maintained a loyal following since its opening thanks to some of its creative takes on traditional Egyptian street food.
This Ramadan is no different, with the quirky restaurant serving up some special sohour items.
We opted for a Foul Ramadan Special sandwich (5LE), Egg and Barameely Cheese Hawawshy (10.50LE), Besara Hawawshy (9LE), and, for dessert, a jar of Mahalabeya with dates (12LE).
The Foul Ramadan Special uses diced tomatoes, pickled onions and cumin and while there was nothing particularly distinctive about the sandwich – other than a few too many pickled onions – it ticked the box of being hearty and filling.
The Egg Barameely Hawawshy, meanwhile, suffered similar problems. Essentially a sandwich, it was packed with eggs but was a little light on the cheese and overall under seasoned.
Besara, a lesser enjoyed Middle Eastern dish, is traditionally used as a dip of sorts – which is the route of the problem for the Besara Hawawshy. The ground fava bean concoction as pretty one-dimensional in flavour and was crying out for some sort of textural contrast.
As mentioned earlier, both the hawawshi options are rather misleading by name – but that may actually be a good thing. The bread tasted freshly baked and delicious, but had nothing in common with the greasy, charred characteristics of the traditional hawawshi.
Served in a small jar, Zooba's Dates Mehalabeya was more impressive in packaging than in taste. While the Mehalabeya itself was creamy and surprisingly light, the taste was rather uneven in the sense that the taste of dates registered on the palate in varying degrees. The unevenness extended to the otherwise pleasant texture, too, with some spoonfuls being grainier than others.
The kitchen at Zooba should be commended for its unrelenting drive in pushing the boundaries of Egyptian food, no matter how subtly. Unfortunately, this year's Ramadan specials are rather uninspiring.