Zucchini: Outdoor Dining at Mall of Arabia
Gate 19 (Fountain Area) Mall of Arabia, Juhayna Square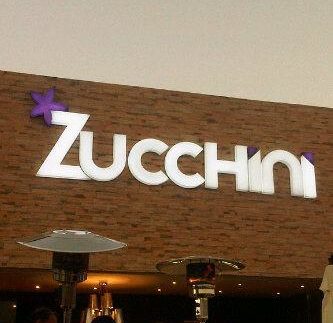 Located inside Mall of Arabia in 6th
of October City, Zucchini stands out at Gate 19 with its white and purple
signage against a bare brick wall by Paul's, where you are surrounded either
side by the mall's food court and the
fountain area. The restaurant as a whole has a very classic feel to it; an
atmosphere that is complemented by the purple lighting.
The area is open, so the seating is all
outside. The chairs and tables are covered by parasols in the morning and
heaters keep diners warm in the evenings. While the atmosphere and feel is
pleasant, the tables are poorly lit- so much so that we had trouble reading the
menu.
The staff are very helpful and attentive
from as soon as we sat down. The menu is full of a variety of food types
including pasta, pizza, sandwiches, soups and starters. There is also a spate menu
that lists Zucchini's drinks.
For our starter, we order the Zucchini
fried platter (40LE) which offers you a choice of three of the available fried
starter items in one dish. We chose crispy chicken strips, fried calamari and
spring rolls, and we received a three dipping sauces with our choices, one of
which was a blue cheese sauce. All three of our choices were excellent; they tasted
crispy and fresh. The only gripe we had is that we would have liked a little
more of the side salad that accompanied the dish.
For our mains, we went for the chicken
cordon bleu (60LE) which, like most of the main dishes, comes with a choice of
two sides. We chose white-sauce pasta and the mashed potatoes. We also tried
the scallop pané schnitzel (85LE) and chose sautéed vegetables and mashed
potatoes. Both dishes were well cooked and seasoned but lacked any real oomph.
Rounding of the meal, we tried a frappucino
(28LE) which warmed us up nicely in the evening cold, a feat also achieved by
the hot chocolate with marshmallows (25LE). The marshmallows were soft and
sweet and the hot chocolate itself was spot on; full of flavour without being
overly sweet. We also dipped into the dessert menu by trying the nuts cup
(24LE) which is ice cream topped with whipped cream and mixed nuts. The ice
cream itself has extremely hard and even when we were able to dig a spoonful out,
the taste of whipped cream dominated.
The prices of some dishes at Zucchini were
a little high, but the service and the quality of food warrant a second visit
at the least as the restaurant starts to come into its own.