Accessorize: Always Cute, Often Pricey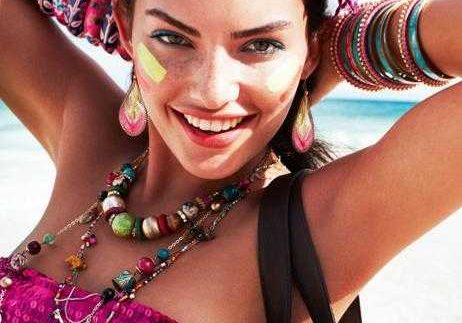 Whenever there's an
Accessorize in sight in Cairo,
our eyes can't help but wander over to ogle what colourful, tropical and floral
designs they're offering lately. Always
carrying the most adorable bags and jewellery of the season, Accessorize is
also unfortunately overpriced, given that their adorable bags are mostly cotton
cloth and pleather, and sell for around £65 in the UK, around 420LE here.
The British accessories brand
was born out of the Monsoon 'ethnic' clothing store in the early 80s, when they
began to sell accessories that were so popular; they decided to dedicate a
separate store to them in London's Covent Garden piazza in 1984.
Now Accessorize has over 240 stores in the UK
and 600 stores worldwide. The label's Mohandiseen
branch is absolutely tiny, taking up a chip of a corner on Lebanon Street. Nonetheless, the store manages to pack a
decent selection of jewellery, bags, and scarves as well as flip flops into the
little space.
Arranged by colour, the
jewellery is definitely funky, original and too cute at fairly reasonable
prices. Delicate leaf pendants were 90LE, chunky oversized colourful bead
necklaces were about 140LE, and chandelier earrings were 100LE– which were on
the pricier side since we've bought silver for less and they looked like they
wouldn't hold up for more than a week. Scarves too were about 90LE, and
standard flip flops about 140LE
We also noticed that their stock was less than fresh: despite carrying items from their
newest collection, we also spotted frameless sunglasses that are at least three
years old, and turquoise stud earrings from last summer's collection. The
pricing is actually quite impressive though, considering that most
international brands carry a hefty import charge swallowed by the consumer,
when doing the conversion their stock here is actually sometimes cheaper than
it is in the UK.
Accessorize's
current collection is inspired by the vibrant colours, prints and embroidery of
Mexico, and vibrant, printed, and embroidered they all are, though not looking too
different from their usual fare, and in fact quite similar to the beautiful
2009 summer collection– which is certainly not a bad thing.