Adidas Outlet: Quality Sportswear at Bargain Prices
6, Badr Towers, side Carrefour and Gourmet Egypt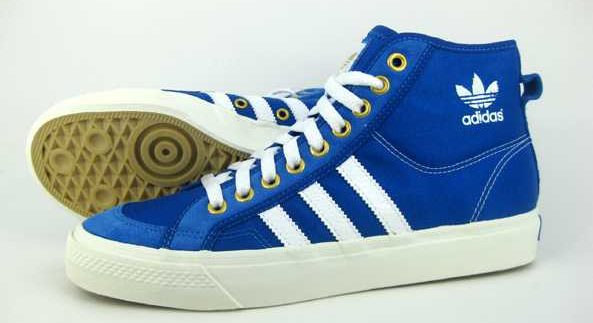 Sport enthusiasts in Cairo
seeking high-quality sportswear at discounted prices should check out the
plethora of Adidas outlet shops dotted around Cairo.
Located on the outskirts of Maadi next to Maadi City Centre-Carrefour, the wraparound shop front looks out onto the Ring
Road highway with an oversize Adidas logo and several eye-catching tracksuit ensembles.
The expansive first floor features rows of
men's footwear, with a section in the rear devoted to tracksuits and some light
sports equipment; including elbow and knee braces, terrycloth headbands and jerseys.
While this is a convenient place to pick up
a pair of mesh basketball shorts, spandex braces or a variety of Adidas branded
cotton or mesh t-shirts; the prize is all in the sneaker section.
Rows of relatively new shoe models include
Gazelle Skate Shoes, priced on a sliding scale between 200LE and just under
400LE, are displayed in versions of white-bodied shoes with different coloured
side stripes, including canary yellow, the brand's trademark shade of green in
a food-colouring vividness and cherry red.
The Olympic GBR shoe is prominently featured on sale for models priced at between 245LE up to 400LE in a
display of all-white and coloured-stripes-on-white models, as well as some
daring colour combinations of yellow-on-green and green-on-blue.
Junior Soccer shoes are also available in a
variety of black, white and gold combinations at around 300LE.
Upstairs, women and children sections yield
Adidas' more feminine styles. Work professional pumps for women (around 200LE)
provide exceptional arch support, even if the styles are a little matronly for younger
fashion-forward clientele. For just 150LE, the leather sandals bring new
meaning to the summer flip flop with soft suede and orthopedic sole comfort.
Stella McCartney's line of
feminine-meets-sporty flats and sling backs were also available in various
models and colours, ranging from 300LE up to 600LE for some newer makes.
We were tempted by an attractive pair of
tomato-red leather body Honey Low sneakers (priced at just under 400LE), with a
retro style and bright white laces that had us feeling too cool for school.
The Adidas outlet brings sneaker fashion to
Cairo in a big
way, and may tempt us to break out of the standard sportswear fashion of current trends. A practical place to look for leotards, track pants, sports gear
and footwear, where staff courteously leave shoppers to browse to their hearts'
content; Adidas Outlet is well worth a visit.