Ali Taha: Korba's Hidden Gem of Beautifully Crafted Gifts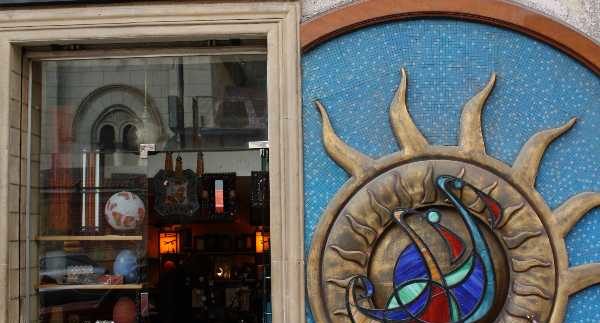 Every once and a while in Cairo, you'll stumble upon a store that you can't believe you never noticed before. Ali Taha is a rare gem in a sea of generic stores on Baghdad Street in Korba, Heliopolis. If you weren't looking for it, you might walk past this little underground nook filled with authentic Egyptian home accessories, crafts and gifts.
Ali Taha carries a variety of products that would make fantastic presents, including leather goods, house accessories and fashion items. The store's leather products include journals, mousepads and hair barrettes.
Gorgeous handmade leather journals with geometric decorative designs are available in three different sizes. The largest journal available is about 30' by 35' cm and goes for just under 200LE. The journals can also be personalised with text, upon request.
The leather mousepads on display masquerade as large maps of Egypt, displaying major cities along the Nile. There are also some wonderfully crafted leather barrettes for those seeking to achieve the ultimate boho-chic look.
The majority of the crafts and gifts in the store are home accessories. For high-end items, there are over two dozen unique mirrors inspired by Arab architecture, Bedouin aesthetic and Egyptian culture. The price point for the mirrors starts around 250LE.
The store also displays one-of-a-kind lamps of various shapes, sizes and functions. From a modern, sleek, cube-shaped floor lamp to the more classical egg-shaped table light, the lamps represent a true pride in craftsmanship and sell for about 200LE. There is also a selection of interesting coasters that include Islamic-style geometric shapes, beautifully illustrated camels and pharaonic designs with the Horus eye.
Classically-shaped glass bottles for perfumes and oils are also available. If it's a gift for someone who likes beauty and body care, choose from their collection of Nefertari soaps and skin products. There are also adorable little kits of incense sticks, oils and candles that come in beautiful boxes.
For fans of one-of-a-kind fashion accessories, Ali Taha has some very elegant patch purses made of different, colourful fabrics in various sizes and prices ranging between 200LE and 300LE. Woven scarves are available in more colours than the rainbow, and they're a steal for 30LE–50LE.
Ali Taha also makes some of the most design-savvy key chains in Cairo for only 15LE. There are even key chains organized by Arabic letters; so personalize a simple gift by getting a key chain for the first letter of his or her name!
Whether your budget is 15LE or 200LE, Ali Taha can be relied on for authentic Egyptian gifts of excellent quality.