All in One: Urban Furniture and Home Accessories in Cairo
24 Abu El Mahasen El Shazly St.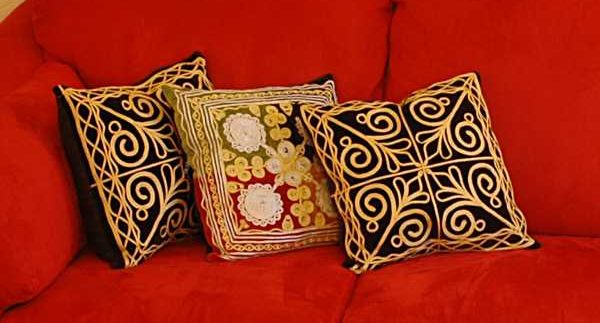 Mohandiseen
makes for a lovely shopper's paradise with its various areas filled with eclectic
and interesting clothing and accessory shops. Taking a walk around the area
isn't so bad either; especially when most
Cairo shops are clustered in the same streets.
Around the corner from the Shooting Club on Mohie Eldin Abul Ezz Street is furniture
shop All in One. With branches in Heliopolis as
well, the shop is something of a veteran furniture shop in Cairo. Tall glass windows front the shop with
funky lights, and accessories are well-displayed in each window.
Upon entering the shop, we were happy to note that while the sale's
staff were ready to answer any question that we had, they kept their distance
and allowed us to look around to our heart's desire.
Unconventional mirrors (starting around 130LE) and random paintings line
the muted, striped walls, with each area set up tastefully.
Among the interesting unique pieces was a particular clock that
simultaneously works as a functional piece of art. For a reasonable 517LE, the clock's
all-metal base was sturdy with thin malleable pipes stemming from the centre and
jutting out in various directions, all around one metre tall. Topping each pipe
was the correlating Roman numeral.
Another interesting accessory was the coolest floor lamp (almost 900LE) that
we've seen in a long time. The lamp's base consisted of pure marble and the
curved metal stand and dome-shaped shade invigorated our creative senses.
If you're looking for love seats or sofas, the modern styles available
at All in One would fit perfectly in a lounge with extra-cosy cushions and
modern build, all sitting low to the ground. With shades of peach, faded limes
and faded purple, expect to pay around 16,000LE for a sectional couch and 6000LE
for the matching loveseat.
For approximately 600LE, the correlating sofa table was built in
somewhat of a minimalist fashion and complete with a double-layered top. All
made of a dark wood and a heavy piece of furniture, the lower deck would make a
great space for coffee table books or a shallow tray of sorts.
All in One is definitely a good option if you're searching for a new
home accessory or a wedding gift for a friend with funky taste in interior
design. Check it out and you won't be disappointed.