Altay: Fashion Conscious Accessories Shop in Zamalek
17 Mansour Mohamed Street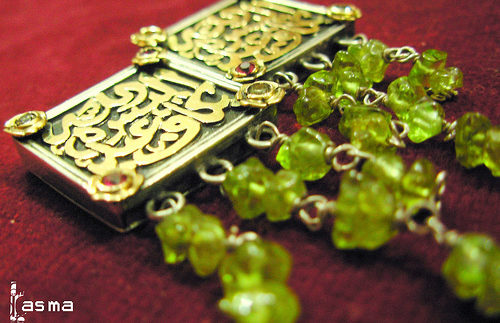 It's no secret that Zamalek is chock-full of accessory shops and boutiques. In such an area where you can find two accessory shops open next to each other, competition is sure to be high and cut throat. However, it is safe to say that Altay, a tiny boutique located just off of Mansour Mohamed Street, is definitely one of the top contenders in the expanding fashion conscious scene in Cairo.
The shop is somewhat easy to overlook, given its compact size and its white faded signage that doesn't really register with the eye. The display window, while certainly not that eye catching, offers enough of a glimpse to get you interested to go in and explore the boutique. The first thing that one notices is the sheer contrast between the size of the shop and the amount of merchandise crammed into it; table surface upon table surface covered with bracelets, necklaces and earrings. Mirrors and boxes are propped against the wall, and there's even the occasional vintage armoire. At first, the visual assault can be quite confusing. However, if you persevere, the chaos can turn into a visual feast for the eyes.
The thing that stands out about Altay is how the accessories manage to amalgamate both the hipster essence that infuses Egyptian fashion these days and the vintage style that a lot of people search for. The merchandise is quite reasonably priced as well; a simple, glass ring starts out at a measly 5LE with more intricate designs reaching up to 25LE; while bracelets and pendants range from 10LE to 30LE. What's enticing about the shop's products however, are the designs themselves. They're reminiscent of the old, folkloric Egyptian style with a hint of a modern twist. Rings come in all shapes and sizes, with floral patterns and intricate etching on the edge of some Holy verses, or even some colloquial proverbs. Bracelets also offer the same folkloric designs, with some that hint at religious motifs such as the blue evil eye. Altay also provides some interior decorations for your house, starting from tiny, coffee table boxes (100LE) to full-length mirrors for your bedroom (450LE). Despite the hefty price of the latter item, it isn't quite as impressive as the accessories where the design seems dull in comparison
The worst part about Altay would probably be the lethargic and sullen atmosphere within the shop itself, as well as the crammed interior. The lighting is somewhat dim and it doesn't really encourage one to go on a shopping spree. However, the shop is filled with modern-day treasures just waiting to be found, and is definitely worth a visit.