Alwan: Cosy, Fun Downtown Art Shop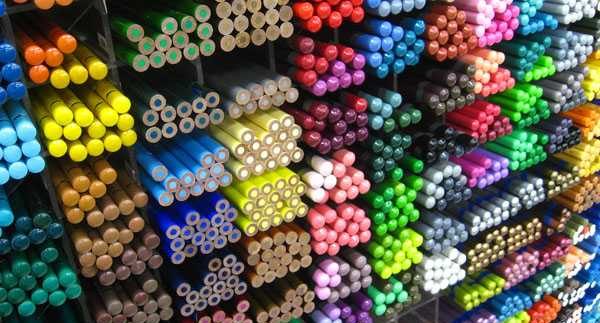 Anyone
that has purchased art supplies at any point in Cairo knows that they're not cheap. Whether
you're out for something as simple as canvas or a particular sketch pencil; expect
to drop a decent amount of dough. These art shops around Cairo are definitely not as common as we
would wish them to be.
Tucked
between a slew of stationary and accessory shops on Sherif Basha Street in Downtown is Alwan.
It's easily missed on the crowded street; so keep an eye out for its
stained-glass lighting hanging in the entrance. Upon entering, you'll quickly realise
that Alwan has been around for years; and its homey, jam-packed atmosphere will
have you quickly inspired to make use of all of it.
The
space is quite small but doesn't feel claustrophobic. The shop's staff are friendly,
attentive and will help you find exactly what you're looking for without
making you feel rushed. The inset of stained glass in the flooring provides a
little inspiration in and of itself.
Basic
stationary supplies are available, from erasers to numerous pens, pencils and crayons.
A rack of pastels towers high, including pencils at 10LE a pop and in raw form.
If
you're on the hunt for painting supplies, this might just be your new-found
haven. They've got the best paint supply that we've seen in town. The majority
of the paints on hand are made by Pebeo and the colour selection is rather
vast. Different types include gouacho paints, costing 16LE per 0.7 fluid ounce
tube, while bigger tubes are also available. Acrylics range between 20LE to 30LE,
which seem to be a bit more expensive. Varnishes are also on stock, along with water
colours and stains.
Coloured
poster boards begin at 3LE, include the Canson brand and are located near the
rack of drawing pads; while hard-backed black journals cost 45LE.
Various
canvas sizes are available; but make sure to ask to see them, as the majority of the
selection was in storage at the time of this review. Suitable for oils and
acrylics, a 26×30 cm canvas costs a very reasonable 9LE. If you prefer canvas
with no backing; you can purchase one metre for 55LE.
Prima
Art may be small; but it is definitely worth checking out when you're in the
mood for some artistic creation.