Amuse: Cementing Zamalek as Cairo's Art and Design Centre
11:00 AM to 21:30 PM, Closed on Sunday -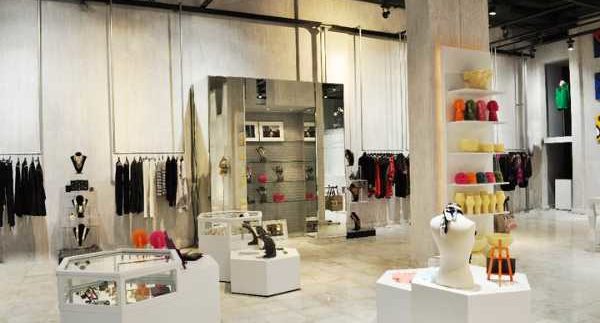 Fact: most men in Egypt hate to go shopping with the fairer
sex. For men, shopping is a dash-and-grab affair; a targeted surgical strike
to purchase singular items– window shopping is not part of our lexicon.
Women, on the other hand, will perform an
exhaustive search for an item that fits a mystifying set of criteria. Men shop
for a t-shirt, or a pair of jeans; women shop for clothes. The difference is
clear; so when an invitation was extended to us to join an expedition to visit Amuse
in Zamalek to go shopping, it was met with quiet reluctance and a silent prayer
for it to be over quickly.
The black opaque doorway to Amuse on the ground floor of the Jeddah Towers
in Zamalek reveals none of its secrets to the casual passer-by. The interior's
white fluorescence gives an almost clinical feel to the space, whose design is
as much a statement as the items on sale. The ceiling in the main showroom
vaults up to nearly triple the height of normal ceilings. There are no
discernable sections, but the handpicked inventory is arranged intuitively;
creating a natural flow for browsing.
Upon entering this self-described lifestyle concept shop, you feel as
if you are in a museum of contemporary art, inspecting the products for pure
aesthetic appreciation. Iconic chairs re-imagined by Alchemy are perched on
thick glass shelving extending from the floor to the ceiling; while other
Alchemy-designed table settings and tableware adorn a low and elongated podium.
Artsy fashion and design books are priced in the 300LE-range and laid out
in a mosaic– including books on Marc Jacobs, Balenciaga and Dior– along with The
American Fashion Cookbook, which features recipes by leading fashion designers.
Stunning framed photographs of scenes in Tunisia and a Latin American
countryside are scattered throughout, and another podium is dedicated to funky products
by stationary and giftware brand Knock Knock for between 80LE to 150LE–
an inclusion guaranteed to placate male companions while the real shoppers
peruse the eclectic selection of female clothing and accessories.
Clothing at Amuse ranges in palettes from dark grey to nude pink and in
fabrics from relaxed jersey to satin. Embellished tops, sequins and silver are
a common theme, as are the hard-to-wear Turkish harem trousers. T-shirts are
mostly priced in the 500LE-range, while dresses are priced at around 1000LE upwards. Accessories included fun necklaces and statement pieces by brands such
as Shorouk, House of Harlow and Clash, as well as a selection of brightly
coloured satin clutch bags with gold or PVC detail.
If there were any suspicions that the artsy design of the showroom was
unintentional, a flight of stairs leading up to a dedicated gallery space
squashes them immediately. Articulate Baboon reigns over this space, where half
a dozen works of art by Egyptian and foreign artists were on display and for sale at
the time of this review for tens of thousands of LE. Everything about Amuse is premeditated to project an image
of refinement and high-minded design.
It is this philosophy that provides an unexpected twist: the inventory
on offer is so meticulously arranged that the entire window-shopping experience
may take you less than ten minutes. This reviewer was the one dragged out of
the showroom, unhappy that our prayers were answered, and looking forward to
the next visit– with a female chaperone, of course.