Argento: Colourful Jeans & Sweaters in Nasr City's Genena Mall
Genena Mall, 9 El Batrawy St., off Abbas Al Akkad St.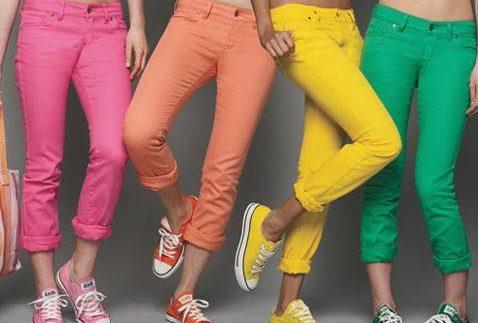 Everyone loves a good
bargain, especially when it comes to everyday clothes. However, sometimes affordable
prices comes with the great risk of lower quality. We stumbled upon
Argento in Genena Mall, a shop that offers decent
shirts and jeans at good prices but at questionable quality.

The first eye catcher
in the shop was a collection of colourful skinny jeans – they were not only in
the fashionable blues and greens, but rather different shades of pink and
purple as well and they were all on sale for 90LE! Word of advice though; if you
fancy owning a pair of neon coloured jeans, please wear them with a black or a
white shirt.
Argento mixes things up with
the cuts of their jeans. Instead of the regular styles and using thick denim,
they have a softer and more flexible fabric instead. An Aladdin-style pair with
cuffs on the ankles (140LE) is made of a very light, navy blue material; keeping
an overall casual look. They also have comfortable baggy trousers in a light
olive green colour for 100LE, as well as a looser pair of trouser-skirt cut
(115LE) that would be too light for winter and so probably more suitable for the
summer season.
We appreciate versatile pieces that work in both summer and winter and Argento offers just that. For instance; light
blouses such as a waist length one with white stars against its black, sheer
sleeves and silk torso (150LE) can be worn throughout both seasons, depending
on the occasion. However, that doesn't justify the inapt material they've chosen
for the coats. Neither lightweight nor warm, the tough fabric almost resembles
plastic and definitely shines like it; the finishing on these coats isn't very
fine either. They come in light and dark beiges and are 190LE.
A sleeveless cardigan
(85LE) with wool lining and sheep fur borders can be considered quite heavy; it
looks chic in grey and brown colours and would go perfectly with a simple sweater
and boots. It is a shame, however, that the poor finishing left streaks of
threads astray from the fabric's lining.

Argento is good for
stocking up on basic items that come in various colours which, in their
one-size flexibility, can go with many outfits. They have simple sweaters in
both long-sleeved cuts with a v-neck (115LE) and sleeveless cuts that are good
for layering (80LE).
It's obvious what to
expect from Argento given the first look around the shop; go straight for basic
tops or jeans if you want a good deal. However, Argento doesn't offer
much when it comes to designs or quality in the more prominent items.