AUC Bookstore Downtown: Design Meets Function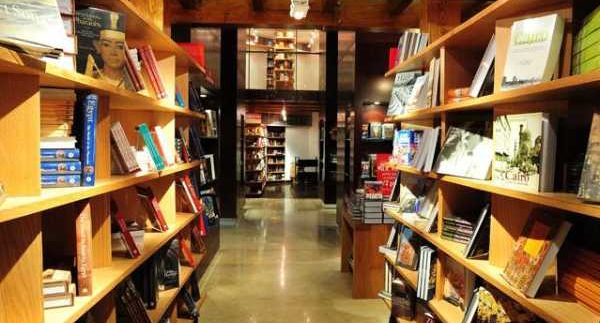 When the AUC's
main campus moved from the heart of Downtown Cairo to the heart of…New Cairo,
the old campus' historic buildings were treated to a facelift. The AUC Press' Bookstore changed buildings, and
its new location is ultra modern with a state-of-the-art design.
What used to be the
cramped administrative offices of the AUC registrar in Sheikh Rihan Palace were
knocked down to create a single space over two levels, with large square structural
columns that double as bookshelves, and high dark ceilings with fibre optic
lights dispersed by crystals, creating a twinkling sky ambiance inspired by
ancient Egyptian tombs. The innovative
space also includes a café that spills out onto a garden terrace with palm
trees and water-landscaping.
Opened in
November 2009 on the eve of the AUC Press' 50th anniversary, the store is one
of five AUC Press Bookstores in Cairo,
which boast the most comprehensive collection of English-language books and
more than 20,000 titles.
Contemporary and
elegant, the two floors of books are nicely laid out and the well-stocked, well-marked
dark wooden shelves are divided by section. The upper floor holds mostly
language materials and non-fiction, and the lower highlights literature, Egyptian
art and archaeology, including beautiful large coffee-table books, and all the
standards of Naguib Mahfouz, Alaa El Aswany, Khaled Al Khamissi and more.
Prices are
standard of the AUC Press and therefore aren't exactly a bargain; but there are
frequent sales that offer reasonable discounts and are worth holding out
for. The staff are helpful and
knowledgeable; and the bookstore offers special orders of any book published in
the US or UK as long as it's still in print.

As always, AUC's high security can be slightly annoying; and you have to
leave your ID at the door when you go in. However, if you're not a felon and
are due for some book-browsing, it's well worth the visit.