Azza Fahmy: Egypt's First Lady of Jewellery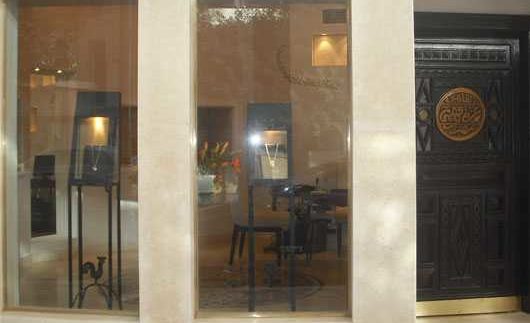 When Egyptian jewellery designer Azza Fahmy was fresh out of the Faculty
of Fine Arts with a degree in Interior Design, she realised that her creativity
could be better expressed in the world of fashion. Rather than returning to
school to hone her newfound love for jewellery, Azza Fahmy chose a wholly
unconventional route and began working as an apprentice in the historic Khan El
Khalili market.
The two years that Ms. Fahmy spent honing her craft under the direction
of some of Egypt's best
craftsmen paid off; today Azza is Egypt's most recognised name in
high-end jewellery and an ambassador of Egyptian design brands in the
international arena.
Like many Egyptian jewellers, Fahmy works primarily with metals. High-quality
gold and silver– often seen together on a single piece– are her specialty. The
pieces are intricate and designs range in inspiration. Arabic calligraphy
quoting early poets and philosophers is a common theme in her jewellery, as are
symbols like the Kaf of Fatima. Abstract geometric patterns are also commonly
used to create her elaborate designs. Stones such as tourmaline and turquoise
are often included for radiant colour.
The pieces range from delicate– as seen
in her 'exclusive' line– to bold, such as the three-dimensional cuffs and belts
designed for UK
fashion brand Preen. A men's line
includes mostly cufflinks and a few masculine bracelets, rings and necklaces.
The Azza Fahmy shop branch in Zamalek is on the intersection of Marashly Street
with Taha Hussein Street.
The shop is a brightly lit, small space filled with glass cases for the
jewellery, which are organised according to the several Azza Fahmy lines,
including 'culture,' 'fashion' and 'bespoke.'
Although most prices are hidden from view in the display cases, one ring
was spotted at around 4000LE. Simple
pendant necklaces are known to cost around 2000LE, but you should expect to pay
exponentially more for heavier pieces with stones or international designer
labels attached.
While the jewellery is gorgeous, the shopping experience at this
location of Azza Fahmy leaves something to be desired. At the time of our
visit, the sales staff were less than pleasant with customers that showed no
sign of purchasing on the spot; so window shoppers would do best to admire the jewellery
from outside the shop or from the shop's website, which includes a much wider
range of items. However, we have heard from credible sources that the Maadi branch
is friendlier.
Thankfully, with Azza Fahmy's jewellery, you know you're not just paying
for the name; you are paying for beautifully handcrafted works of art.