B & D: New Toy Shop in Mall of Arabia
Phase 2, Mall of Arabia, Juhayna Square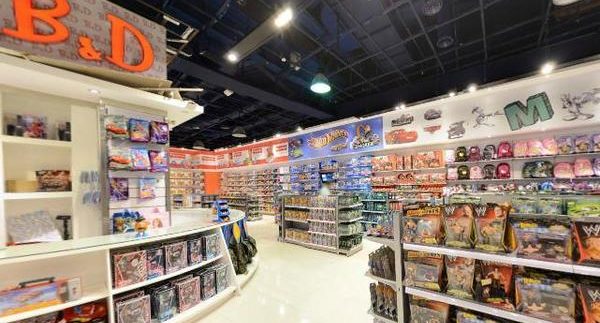 Another massive shop has opened in Mall of
Arabia, this time catering exclusively to kids with its rows of toys, clothing
and school gear. B & D was fairly new at the time of this reviewer's visit;
so new in fact that few of the items on display had price tags. This
reviewer suspected that this shop might be an official Disney shop, as most of
the toys on display were of Disney animation and cartoon characters, as well as
Pixar characters. We're talking Mickey, Minnie, Eyore, Piglet, Winnie the Pooh,
101 Dalmatians, Buzz Lightyear, Cars, Hannah Montana, High School Musical…
the list goes on.
At the entrance of the shop, a stand of
Crocs shoes mostly displays girls' shoes in lemon yellow, baby green, silver
and pink as well as Crocs with Cinderella and butterfly figures. None of the shoes were priced at the time of
our visit. Rows of display tables were divided according to the character or
brand. So a whole row of Hello Kitty toys were displayed together, including
bead work and creation kits, stickers, card makers and electronic pianos. On
the other side, several shelves carried stuffed toys like Tigger and his
friends at around 59LE per toy.
Further in, past the shelves carrying Pixar
characters and an electronic vacuum for kids next to a rock guitar, you'll find
a rather intimidating Barbie wall, complete with figures, houses, cars,
costumes, accessories and a small TV screen showing Barbie promotional
material. If your kid loves Barbie, this wall is definitely dangerous.
Across from the Barbie wall, a few shelves
carry puzzles as well as a section of Lego pieces. Board games such as
Scrabble, Pictionary, Chinese Checkers and Make or Break are on display. A
Pictionary game will set you back 199LE. On the next row of shelves, you'll
find school items such as lunch boxes (around 20LE) and water bottles that are
heavily branded with Hannah Montana, High School Musical or Cinderella logos.
There's also a small selection of kids'
shoes with Mickey, Minnie and Buzz Lightyear designs in a Converse sneaker
style and a limited range of sizes. You can also pick up a computer mouse or
mouse pad with a Mickey face or shape. Closer
to the shop's entrance, you'll find a small collection of boys' t-shirts and
jeans as well as girls' Barbie t-shirts.
At the back of the shop, you'll find a
selection of Avinet products for newborn babies, such as pacifiers, bottles,
storage systems and blenders. There is also a small selection of strollers and
baby chairs.
The shop also carries a good collection of
Fisher Price educational toys for babies less than one year of age and
toddlers, including Fisher Price rolling snails, singing footballs, turtles,
nursery rhymes and phones. You can also pick up a Fisher Price potty or stroller.

At the front of the shop, a few kids'
bikes carrying Barbie and Hannah Montana prints are on display, next to a few
scooters and a small yellow toy convertible.
It seems like a one-stop shop if you have
kids with a variety of needs and a common love for Disney and other cartoon
brands. As few items were priced, we can't make any assumptions on the shop's
affordability, though based on its range of products, we can say that this is a
strong contender on the toy shop market in Egypt.